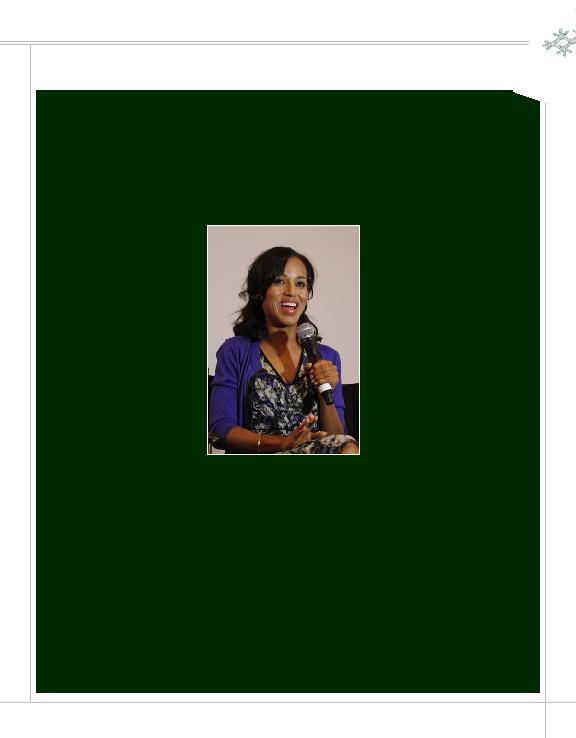 5 8
MegaFest Conference
Who is Derrick M. Williams? He's a
New Orleans native whose mother
and stepfather owned a company
that rented tables, chairs, and other
such equipment. After all, what's an
event without tables and chairs? In
a city such as New Orleans, the jazz-
music capital, their family business
was bound to be a success. Although
Mr. Williams attended Dilliard
University as a music major, he went
on to create Favor International, a
marketing and artist-management
firm. He has managed the careers
of such gospel R&B artists as Fred
Hammond, Karen Klark-Sheard,
and Tony Terry. When he wasn't
developing talent, Williams was
involved in the development of
movies such as "The Pursuit of
Happyness" and the remake of
"Karate Kid."
It's no wonder Williams would meet
and develop a working relationship
with Bishop T.D. Jakes and go on
to take part in some of Jakes' most
successful projects, from MegaFest
to movies, including "Sparkle"
and "Jumping the Broom," which
grossed $16 million in its first
weekend of release.
Unless you're already acquainted
with him, you probably wouldn't
notice Williams: he doesn't possess
rock-star charisma, his clothes are
not flashy, and, in fact, he's not
one to toot his own horn. And it's
okay with him if his name is not a
household phrase the same as Jakes
or Oprah Winfrey, even though his
circle of influence includes both of
the aforementioned. His work does
not completely define who he is.
Williams is Executive Vice President
of Jakes' entertainment company,
TDJ Enterprises. It was Williams'
idea to add the International Faith
and Family Film Festival to the
MegaFest lineup. After all, Jakes
has produced a host of films. In
hindsight, adding the film festival
seems like a no-brainer--like
renting tables and chairs for an
event--but that's why Williams'
input is so invaluable. He pays
attention to the tiniest of details
that most people might overlook.
If he isn't careful, Williams could
become a household name in spite
of himself.
The International Faith and Family
Film Festival kicked off with former
CNN correspondent Soledad
O'Brien and her landmark Black
in America documentary. Jakes'
movies, although spiritually based,
have made him a household name
among mainstream audiences. The
creation of his own film festival,
complete with Hollywood actors,
directors, and producers, was the
icing on the cake.
Emmy nominee Kerry Washington,
as well as Regina King, Jennifer
Hudson, Anthony Mackie, Meagan
Good, and Hosea Sanchez were
just some of the standout actors in
attendance at the film festival. Some
were there to promote screenings
of their upcoming films, while
others were there to give industry
advice on producing, screenwriting,
and acting. And as if Jakes didn't
already have a full schedule, he also
presented a screening of his new
BET show, "Mind, Body and Soul."
Oprah's Life Class, featuring Jakes,
kicked off the three-day conference
at the American Airlines Center.
And most people in attendance
agreed that at some point during
the program, Oprah's mediator
persona took a back seat to Jakes'
anointing, which left not a dry eye
in the arena. The two episodes were
aired on the OWN Network last
September, and both addressed the
subject of raising children without
fathers. NFL Hall-of-Famer Emmitt
Smith and NBA star Dwyane Wade
discussed their parental challenges
as divorced fathers.