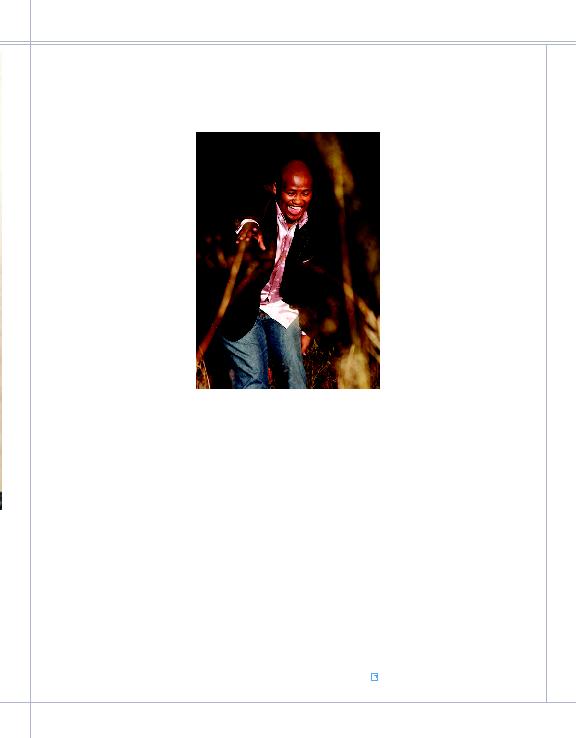 2 5
M-Siya
heart & soul
was titled NGIYAZISOLA, meaning "I regret." There is a story behind
the title. I had been going through a major fall-out with my dad, and
I turned to God using my music. I used the only weapon that I knew
was mine, all of the time.
God has used my music to talk to me ever since, and HE has used
my music to speak to millions more lost souls. From 2004­2013, I
have released 8 albums that have been
growing stronger and stronger in terms
of the intensity and the maturity of the
content. I still pray for miracles; I pray for
the salvation of many through this husky,
high-pitched voice of mine.
Lm:
Do you consider yourself a
Sm:
You know, I have never really thought
about this until now. I am an artist who
is not confined to being a solo artist.
I think this is true because I consider
myself a free spirit, spontaneous, which
makes me a fun person to work with.
Although for the better part of my career,
I have worked alone and just hired the
needed input artists, I am feeling more
like working with groups now in order to
learn from others' talents and share my
experience as well. Also, since it's always
been better to go solo in South Africa
in terms of the financial aspects of the
industry, many people understandably
have solo projects. But to say that I am
a solo artist would be unjust to what my
voice can do alongside other equally or better-skilled people.
Lm:
who is your greatest inspiration?
Sm:
My role model at the moment.... I don't know. I look up to
different people because of their different specialties in the industry.
I like R-Kelly's ability to speak his heart out to whomever he intends
to communicate with, be it a person of the Lord or not; he just does
it perfectly. Also, I admire the way he has turned talent into a big
business that employs people and keeps the cash rolling in. Then,
there is Kirk Franklin in the Christian community, who has shown
himself to be a genius over the years and has produced good music
with fresh angles without fail. I think the grace of God upon these
men is amazing because it is God that gives us the ability to attain
what we do and earn the rewards that we end up earning. I normally
just pray for God to give me the strength to continue in this industry
and also to grant me the patience to serve Him with diligence and
faithfulness for as long as I have been entrusted with this gift.
Lm:
where do you see yourself five years from now?
Sm:
In five years, I will be an owner of a huge printing company
and a record label that will trade internationally because I'm
sure that I cannot die within the limitations of my country and its
shortcomings. Right now, I have just started serving as a pastor in
HOPE CHRISTIAN CHURCH in Katlehong, South Africa. I am now
really looking to make a huge difference in the Kingdom of God
from the position He has placed me in. Now, in five years, I must
have been able to impart what God locked inside of me when He
sent me to this planet. I believe that God has not begun to unleash
my mission on earth. I read and understood 1 Cor 2:9: "No eye
has seen, No ear has heard, No mind has conceived what God has
prepared for those who love him." As a result, I decided to LOVE
HIM MORE. I would love to launch my brand outside of South Africa
and penetrate the market with my God-given talent.
Lm:
Sm:
I am called by God, so that means
I am the type of person who will look at
you and know that something is wrong
because I have been given the heart of a
shepherd. I am a loving person who has
had time to learn the value of friendship,
loyalty, and commitment. I am easygoing,
but a bit shy at first. I do not get upset
easily. I know that because when I met
my wife, we were together for at least two
years, and not even once did I get angry.
I am a blessed man because God gave
me a praying woman, and she has
been my source of strength ever since.
Because of her, I have a beautiful smile
that shows the warm-heartedness in me.
Lm:
Sm:
Music is indeed my passion. I love
my music and what I sing about; I think
it has withstood the test of time. When I
started, I thought that I was going be an overnight success. I'm sure
the Israelites had no idea that they were taking a four-decades-long
journey when they escaped from slavery. What seems to stand out
for me in that story is that as surprised as everyone could have
been by the length of time that our journey takes, one thing that
is for sure is that God remains faithful all along the way. So I take
comfort in knowing that God will never leave me nor forsake me.
And my passion for music is the one thing that I will take to the
grave along with my faith.
Lm:
You are a Talent Management Agent. which well-known
Sm:
God has given me the rare opportunity to own a recording
studio, and that has also motivated me to help people who are
talented and who are just short of the means to fulfill their dreams.
I also run a recording label through which we have signed Mzoxolo
Rafani, who has been a big act in South Africa since he came in
second in a competition that began in 2008 called I Want to Sing
Gospel. We hooked up in 2012 to work together. We also have
Thoko Madonsela, who has been a backing vocalist for various
acts in the country. She also had the opportunity to tour Europe in
an African production in 2009. So I am truly blessed to have such
talent in my production house because those two are a mature pair
that is content and focused. We can do all things through Christ,
who strengthens us.