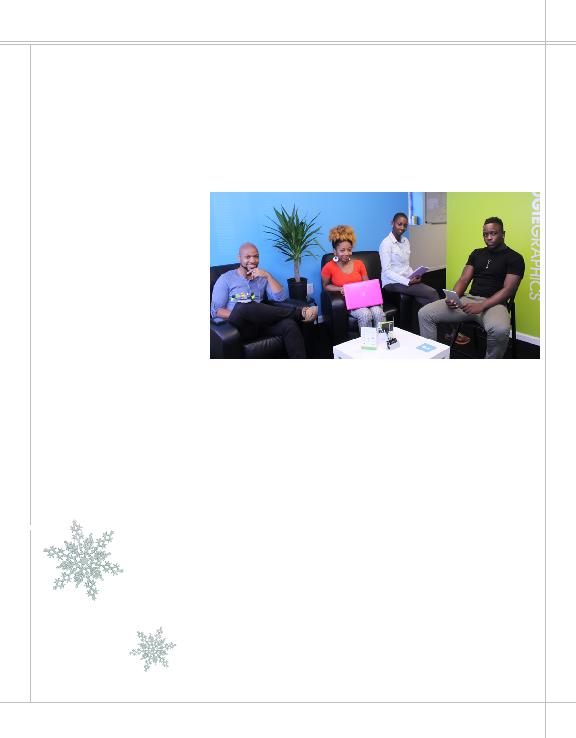 1 4
N.Y. Boutique
he name stuck like a label.
He would later start his own
boutique and name it `Boogie
Graphics,' or BG for short. Don't let
the name fool you--their services
go beyond just graphics. Boogie
Graphics is a boutique that helps
businesses brand and grow; it is a
social media and digital marketing
agency which intentionally employs
young, talented entrepreneurs. In
fact, the youngest person employed
is only 24-years old. Bastien himself
is only 23-years old, and his boutique
in Upstate N.Y. has been growing
quickly since 2012.
Not only is the boutique name
unforgettable and interesting, their
growth is also fascinating. "BG started
while I was a sophomore at the
University of Albany," says Bastien.
"I was a freelance graphics designer
then doing some work for local
charities, events on campus, and a
couple of small businesses in the area.
As my freelance work grew, I realized
my company was growing too. So, I
broadened my services to web design,
logo design, identity, marketing, and
more. Two people worked at the
company, and at the time they were
contractors. Little by little the company
grew." The name `boogie' was more
like the property. As the boutique grew,
the meaning of `boogie' changed. Now
the word `boogie' stands for positivity,
high energy, and power. This small
boutique grows more every day. With
seven people currently, the company
hopes to bring that number to 10 in
the next two months.
BG boutique is fairly new. How did
they brand themselves so well and so
fast? "It was very difficult, not just the
branding, not just the digital image,
but also our physical location was
an issue combined with my limited
time being a new entrepreneur," says
Bastien. "We had to work with new
and existing clients, just like any new
Upstate N.Y. Boutique
Helps Unique Brands and Businesses
Ask a few people the
meaning of the word
`boogie' and suddenly
they want to dance
or boogie. Jacques
Bastien, born in Haiti
but raised in Brooklyn,
New York, is no stranger
to dancing. Growing up
as a kid, Bastien used
to dance a lot and was
nicknamed `J Boogie'.