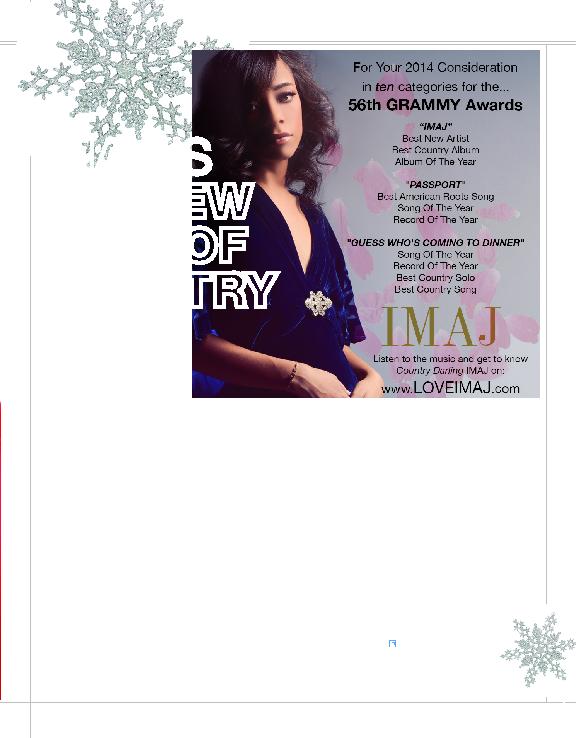 2 3
IMAJ
MAJ is a multi-talented country singer-songwriter, visual artist, novelist, actress, and the daughter
to 80's TV icon Philip Michael Thomas, who acted as Tubbs on the Miami Vice series. She
successfully taught herself phonetically to sing in six different languages.
IMAJ has been accepted by the GRAMMY Awards committee in ten separate categories. She is one
of the hottest up-and-coming Country artists out there! Recently, she was featured on QueenLatifah.
com, the homepage of the Queen Latifah Show, as "The New Face of Country Music."
IMAJ has been a special guest of and toured/opened for noted singers like Collin Raye, Billy Dean,
Gretchen Wilson, Clay Walker, Lorrie Morgan, Neal McCoy, Kip Moore, and LeAnn Rimes. She
performs her own Las Vegas-style Country show called the "Love IMAJ" Concert. She is known as
"Dallas' Little Gem" and is often referred to as the "Country Darling."
IMAJ is a humanitarian who has performed shows and auctioned off albums to benefit various
charities, including organizations aimed at promoting the prevention of bullying and child abuse,
education, dog and pet care, and horse rescues. Most notably, she has worked with a hospice, where
she developed a great friendship with a patient named Kirk Asplin, with whom she wrote music. She
wrote eight of the twelve songs on her debut album, including two with Asplin. She released her
self-titled debut album, IMAJ, available on iTunes, Amazon, Rhapsody, Spotify, Pandora Radios, and
more. Her first single off the album is "Guess Who's Coming To Dinner?"
To learn more about IMAJ, visit loveimaj.com/meet-imaj