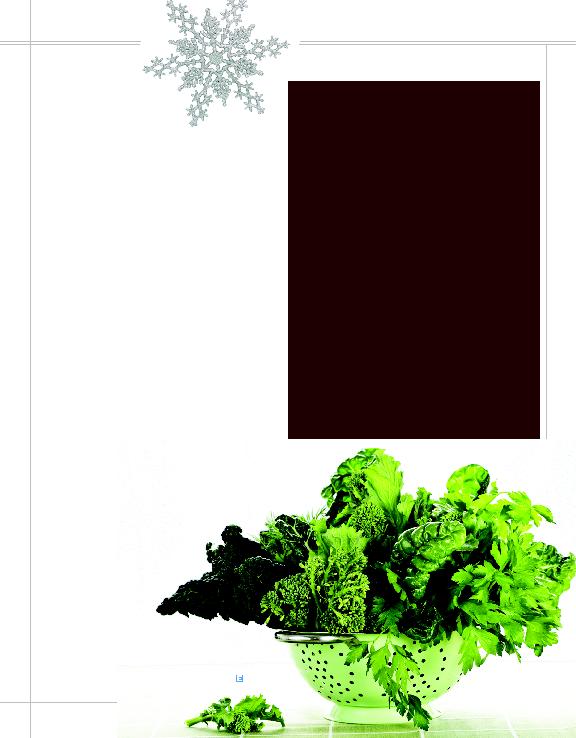 maSSaGed KaLe SaLad
1 bunch kale, stalks removed and discarded, leaves thinly sliced
1/4 cup extra-virgin olive oil, plus extra for drizzling
Freshly ground black pepper
1 cup canned mandarin orange slices
Small handful toasted pepitas (pumpkin seeds), about 2 rounded
In a large serving bowl, add the kale, half of the lemon
juice, a drizzle of olive oil, and a little kosher salt.
Massage until the kale starts to soften and wilt, 2 to 3
minutes. Set aside while you make the dressing. In a
small bowl, whisk remaining lemon juice with the agave
and lots of freshly ground black pepper. Stream in the
1/4 cup of olive oil while whisking until a dressing forms.
Taste, and adjust seasoning if necessary. Add dressing
to massaged kale, tossing the kale gently to incorporate
dressing thoroughly. Add mandarin orange slices and
pepitas. Stir to combine.
5 1
Healthy Heart
an anti-coagulant to prevent blood clotting, lowering
triglyceride (the fat in our blood) levels, and increasing
HDL cholesterol (the "good" cholesterol).
While much of the attention to the health-promoting
benefits of omega-3 fatty acids have centered on
heart health, research efforts have also studied the
positive effect of omega-3 fatty acids on brain health
as well. Results of a study published in 2005 in The
Journal of Neuroscience reported that omega-3
fats may protect against a mechanism associated
with Alzheimer's disease. An article published in the
September 2013 issue of The Journal of Nutrition
reported that women who consumed higher intakes of
omega-3 fatty acids had decreased risks for symptoms
of depression.
Omega-3 fats cannot be made in the body, so it is
essential that we consume foods that contain them. The
two most often discussed omega-3 fatty acids are EPA
(eicosapentaenoic acid) and DHA (docosahexaenoic
acid), which are found in high concentrations in cold
water fish such as salmon, halibut, mackerel, sardines,
herring, and some trout. Health experts promote the
consumption of these types of fish at least two times
per week. Many plant foods also contain omega-3
fatty acids, in the form of alpha-linolenic acid (ALA).
Notable food sources of ALA include flax seed, chia
seed, hemp seed, pumpkin seed, canola oil, walnuts,
and green leafy vegetables. Grass-fed beef is also
known to be a dietary source of ALA.
While a nutrient-dense, plant-
based diet composed of whole
grains, vegetables, fruits,
nuts, seeds, and lean
animal proteins is the
hallmark of a healthy
meal plan, including food
sources with appreciable
amounts of omega-3 fatty acids will benefit
the heart and mind. Try this delicious kale salad
full of nutritious ingredients, including the kale and
pumpkin seeds, which provide omega-3 fats.