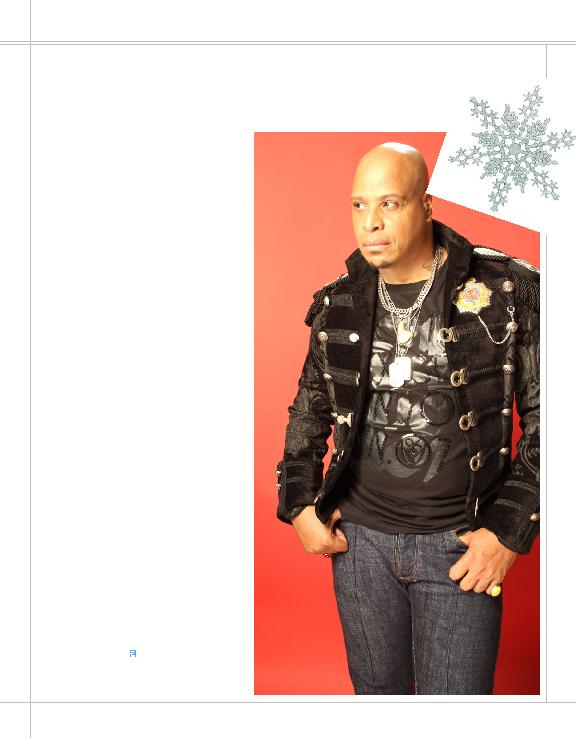 2 1
Darryl D'Bonneau
Music that Lifts the Spirit
he soulful melodic sounds of the Prince
of House Music will soon hit the airwaves
again. Darryl D'Bonneau has been making
the kind of music that lifts the spirit and gets you
moving from left to right on the dance floor with
chart-topping success. D'Bonneau first saw success
with his chart-topping duet with Barbara Tucker,
"Stop Playing with My Mind" in 2000. His latest
opus is a collection of the style of music that fans
have grown to love over the years. He has also
teamed up with some of house music's legendary
producers such as Frankie Knuckles, Todd Terry,
Kevin Dot Kruz, and Darque just to name a few.
Recently, D'Bonneau released four new songs
from his impending double album House of
Love & House of Love Duets (featuring chart
topping performers). The double CD is due out
in Spring 2014 on AtWork Records. These releases
are a must-have for any House and R&B music
enthusiast. Make sure that you check out these
future classics By Darryl D'Bonneau--Lonely,
produced by Darque; Going Home produced by
Todd Terry and Kev Dot Kruz; Lets Go, produced
by John Carr; and Party Right, produced by Carl
Hanaghan; all available on TraxSource and iTunes.
D'Bonneau also shot a promotional video in New
York City with famed director Mario Ferrini from
Switzerland, as well as a video for his song Lonely
produced by South African producer Darque.
Both videos were shot by master videographer
Swift Ruben Vidal, which is even more exciting.
He toured in Amsterdam at ADE on October 16th
­ October 20th, with a November 1st performance
and video shoot in Basil, Switzerland.
D'Bonneau said, "I do not want to be labeled as just
a house artist. You may hear a bit of pop, gospel or
R&B in my music, and that's because I have sung all
genres. I see that I make others happy when they
listen to my music and there is something in my
music for everybody."
For more information about Darryl D'Bonneau, visit
www.artistecard.com/darryldbonneau.