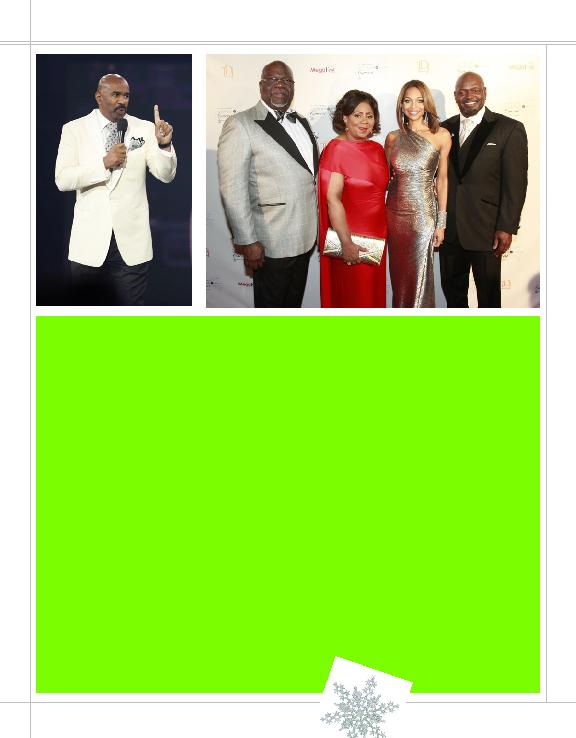 5 7
MegaFest Conference
MegaFest, the largest Christian
family festival produced by Bishop
T.D. Jakes in the country, has
been held in cities from Atlanta
to Johannesburg in its nine-
year history. Atlanta has built its
reputation as an entertainment
epicentre, so it's no wonder that
Jakes chose the Georgia Dome as
the location for his first Woman
Thou Art Loosed conference in
1998. And he followed by holding
his first Man Power conference
there in 2003. But conferences
of this magnitude cost millions of
dollars, along with lots of time and
resources. Perhaps it was more time,
money, and resources than Jakes
wanted to invest, given the dip in
attendance in 2004, so he skipped
the conferences for the next few
years to re-evaluate his efforts. In
2008, he returned bigger and, most
would agree, better, with MegaFest
International in Johannesburg. By
this time, Jakes had built a name
for himself and his conferences on
a national stage. Taking his event
to South Africa was the first step
toward creating his international
footprint.
But just like any good politician,
even Jakes knows that if you want
to succeed, you have to stick to
your base and build around it.
His base is in Dallas, Texas, the
home of his Potter's House mega
church, with a number of satellite
churches in the Dallas metroplex
and other cities. But when it
comes to hosting events, Dallas is
no Atlanta. In the past, Jakes has
said that the logistical setbacks of
Dallas would need be fixed before
the city would get MegaFest. Sure,
Dallas hosted the 2009 NBA All-Star
Weekend and the 2011 Super Bowl,
yet neither went off without a
hitch due to unexpected snow and
transportation issues. But snow in
August in Dallas? Seasonably warm
weather coupled with the economic
impact of MegaFest on the host city
that has ranged from $40 million to
$125 million was enough for Dallas
officials to step up their game.
Hotels, restaurants, airlines, and
rental car companies were just a few
of the local businesses that shared
in the extra revenue that came with
the tens of thousands of conference
attendees--not to mention the
extra security and police assistance
put in place to ensure it all went
smoothly.
Transportation logistics surely
represented one of the "setbacks"
that had to be fixed. And Dallas
Area Rapid Transportation (DART)
showed up in a big way. Although
Dallas residents were familiar with
the landscape, visitors were aided
by DART buses that shuttled them
between venues throughout the
three-day event. With logistics out
of the way, Jakes brought in Derrick
M. Williams to assist with the event.