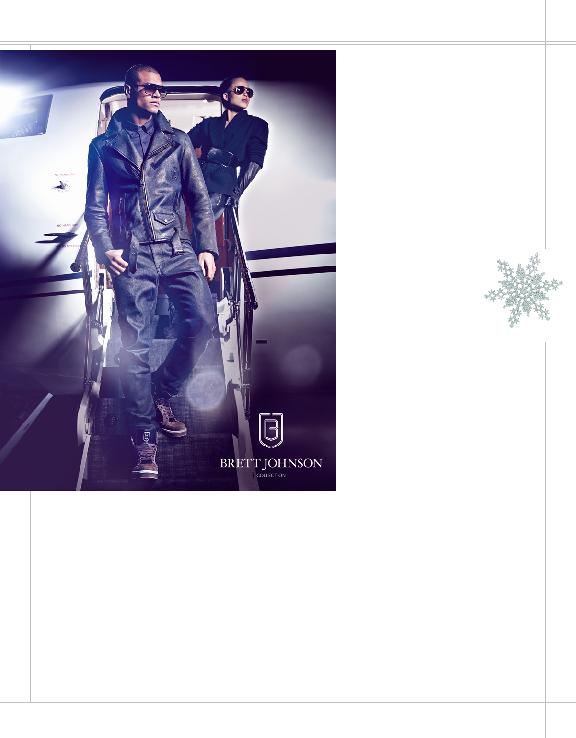 1 2
Scenes With Brett
By Rachel Sokol
Photography by Jamie magnifico
hen your parents are media moguls Robert and
Sheila Johnson, the founders of BET (Black
Entertainment Television; now part of Viacom),
you have one of two paths to follow: fade into obscurity,
or make a fantastic name for yourself, citing your family as
your inspiration.
Fashion designer Brett Johnson, 24, chose the latter, and
represents the next generation of Johnson family moguls.
This fall, he launched The Brett Johnson Collection of new
outerwear and footwear, with successful marketing events
in Los Angeles, Miami, New York City, and Washington D.C.
His digital store's debut was a creative partnership with
Interview magazine and Nylon media.
"I am extremely proud of my friend Brett Johnson," says
Antonio "L.A." Reid, Chairman and CEO of Epic Records.
"His fresh, new line captures the essence of his fly sense
of style."
Johnson says, "Growing up in the entertainment world
and being surrounded by innovators and creatives, I was
immediately drawn to that lifestyle. I was the kid who
always wanted to create things."
He describes his recent collection as "luxury sportswear
tailored for men within the creative industries."
Johnson believes that taking pride in the way you dress
"conveys confidence, charisma--and creativity in a truly
global sense."
A creative force to be
reckoned with, fashion
designer Brett Johnson
explains why--and
how--clothing makes
the man.