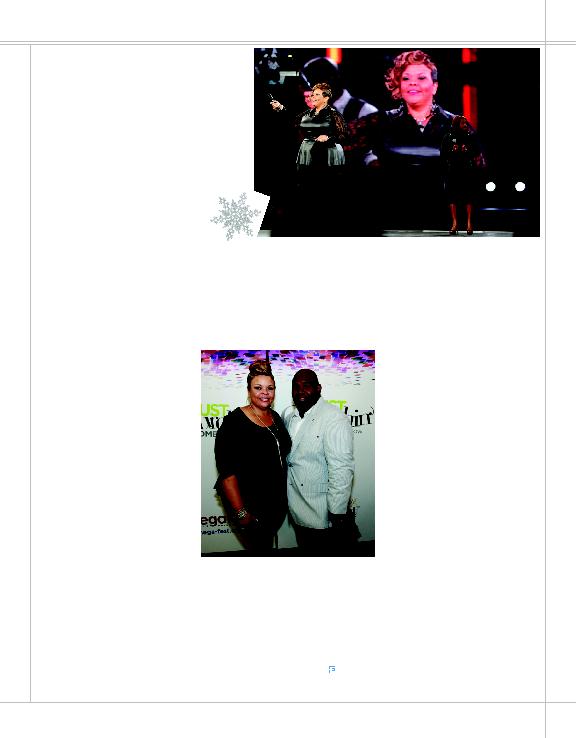 2 0
The Manns
Put Their
Trust in God
By Steffanie Rivers
Photo Credit: Vernon Bryant,
Courtesy of The frontPage firm.
efore the gospel recording contract, hit stage plays
and popular television shows, David and Tamela
Mann were just a married couple with children
from Fort Worth, Texas. They met through a mutual
friend, Kirk Franklin. Yes, that Kirk Franklin. They even
joined Franklin's gospel ensemble where their talents were
showcased on his first Grammy Award-winning CD (Kirk
Franklin and the Family) in 1993. But
after more than twenty-four years
of marriage, four children, seven
grandchildren and all the notoriety,
the pair said they are just getting their
second wind.
Tamela was one of the featured
singers at First Lady Serita and Bishop
T.D. Jakes' MegaFest held in Dallas,
Texas last August. And David was part
of the MegaFest comedy showcase,
Just Churchin'. Comedians Cedric the
Entertainer and Niecy Nash hosted
the event that also featured clean
comedians such as LaVelle Crawford,
C o C o a B r o w n , G a r y O w e n s ,
and Akintunde.
Being in the spotlight now comes naturally for the Manns.
Recognition as part of The Family brought them to the
attention of screenwriter, playwright, and producer Tyler
Perry who tapped the couple to appear in his traveling
stage plays. And when Perry took his plays to TV and movie
screens, the Manns went along for the ride starring in
Perry's Madea movies and Meet the Browns. The spin-off
television show of the same name (Meet the Browns) has
become the #1 sitcom on TBS.
But the couple contends the world hasn't seen the best of
what they have to offer. The coupled is working on a new
cooking show, "Hanging with the Manns" where they offer
up healthy food cuisine while stressing the importance
of exercise. As spokespeople for the American Diabetes
Association, the Manns said their cooking show is a part
of their quest to share how they lost weight in the midst
of a hectic Hollywood schedule. And
since they would rather show us
than tell us, David said his family is
developing a reality show.
"If you think I'm crazy, you haven't
seen nothing until you meet the rest
of the Manns," he added. It seems
the comedic bug runs in the family.
Tamela said her husband's ability to
make her laugh is what attracted her
from the beginning.
"And she knew where I was and didn't
have to hunt me down wondering
what I was up to," David interjected!
How did he know she was the one
for him?
"She was willing to put up with my crazy butt, so I knew
she was the one."
Tamela's latest CD "Best Days" is available now, featuring
the new single Take Me to the King. The couple can also
be seen on every episode of Meet the Browns on TBS.
No word yet on what network the Manns' reality show
will air.