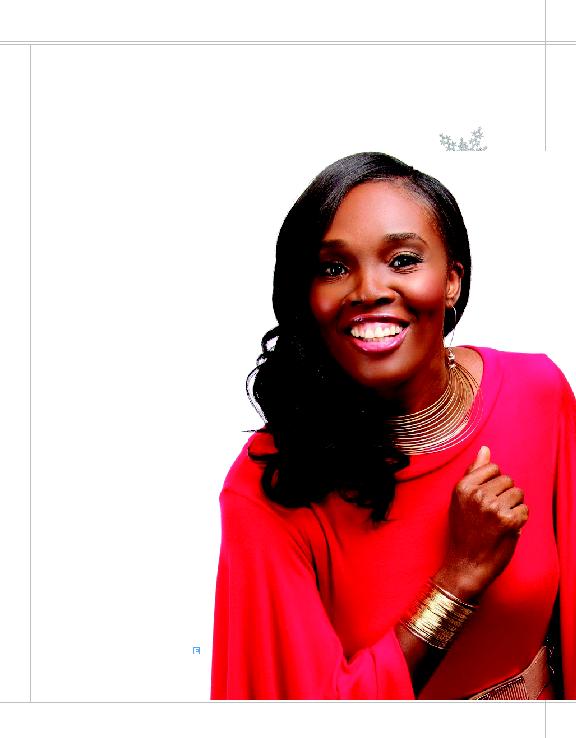 2 2
Judith Gayle
udith Gayle was born in Clarendon, Jamaica. She began her music
career in the 1980s by singing with secular artists and as a cabaret
singer in Jamaica's most prestigious hotels. In 1999, her
life changed when God captivated her heart at a local church
in Clarendon that she was invited to by a friend. Like any
diamond in the rough, Judith's early years as a young
Christian brought seemingly unbearable loss, heartache,
despair, fear, pain, struggle and suffering. Having been
stripped of everything and isolated in misery, she
experienced brokenness in God, who taught her to
smile again.
Her message of righteousness, uncompromising
purity, resilient hope and unrelenting faith in God
is evident in her many songs that have saved souls,
revived worshippers and encouraged many, not
only in Jamaica, but internationally in Canada, the
U.S., England, the Caribbean and various other
countries.
Judith has produced five anointed and versatile
Gospel albums that show her musical diversity
and vocal dexterity. She has also published
her first book Preserving the Soul. The book
discusses the effects of sin on the soul and the
plans of the enemy to destroy the soul.
Judith has been privileged to share the
stage with CeCe Winans, Rev. Jackie
McCullough and Alvin Slaughter, to
name a few. Recently, she had the honor
of having Pastor Donnie McClurkin
sing background for her at his church,
Perfecting Faith.
She is currently working on a new
project with her first single, entitled
"Survivor," due out soon.
She stands as a secure woman and
a shining beacon to thousands who
have been inspired, challenged and
changed by her testimony of God's
mercy, forgiveness, love and power.
For more information about Judith Gayle, visit
www.artistecard.com/judithgayle