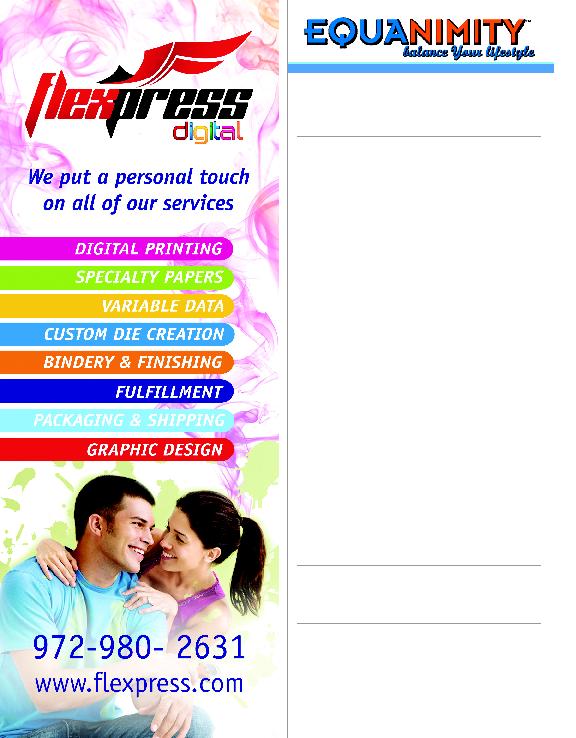 Editorial
SR. EDITOR
Ronda Lee Roberts
MANAGING EDITOR
Mike Dunphy
ASSISTANT EDITOR
Elizabeth Klein
WRITERS
Laura Lilley Smith
Anne Vanbeber
Paula Swenson
Stacey Hanke
Mary Wills Capps
Steve Kaminsky
Katherine MacKinnon
Carolyn Jones
Rachel Sokol
Prasann Thakrar
Tim Prioleau
Stephanie Kirkpatrick
PHOTOGRAPHERS
Bongani Mlambo
Kauwuane Burton
Entertainment Photos
PHOTO EDITOR
Kauwuane Burton
Advertising
MARKETING / PROMOTIONS
Go Mobile Promotions, Inc.
Dallas Bulldog Marketing, LLC
Video
DIRECTOR / CREATOR / EDITOR
Fluggo Productions Ltd Co
VOICE RECORDING
Lisa Head
DESIGNER / MARKETING DIRECTION
100% Juice Graphic Design & Marketing
Administration
ADMINISTRATIVE ASSISTANTS
J.B. Mlambo, II
Mo Maureen Moyo
INDEPENDENT CONSULTANT
Mbomla Enterprises ­ Services
Sam N. Mlambo, Jr.
LEGAL SERVICES
James D. Runzheimer
LEGAL ASSISTANCE
Sibusisiwe Mlambo
Production
DESIGN / ART DIRECTION
Chansen Publishing
Michelle Casal
WEB DESIGNERS
Jermaine Tyner
Lumbie Mlambo
Sharon Harvey
CHIEF TECHNOLOGY OFFCER
Jermaine Tyner
CREATIVE SERVICES
Cathy Hayek
Laura Lilley Smith
Mbomla Enterprises ­ Services
Home Schooling for Excellence
GRAPHIC ARTISTS / DESIGNERS
100% Juice Graphic Design & Marketing
Bongani Mlambo
Epheal.com
Graphic Identity Services
Cover Image
PHOTOGRAPHY
Bongani Mlambo
equanimitymag.com
Contact Us
Equanimity, a balancing lifestyles magazine by Equanimity LLC
1-800-338-4319
P. O. Box 3585, Coppell, TX 75019
WWW.EqUANIMITYMAG.COM
What You Should Know
All items listed here can be found on the Equanimity website. You can also email us
from the Equanimity website.
Equanimity wEbsitE:
www.equanimitymag.com
HavE a story to sHarE on Equanimity? Email your namE and contact
info@equanimitymag.com
want to subscribE to Equanimity?
subscribe@equanimitymag.com
nEEd to advErtisE in Equanimity?
advertise@equanimitymag.com
editor@equanimitymag.com
Contributors
CHAIRMAN AND CHIEF EXECUTIVE OFFICER
Lumbie Mlambo
EDITORIAL DIRECTOR / CHIEF EDITOR
Lumbie Mlambo