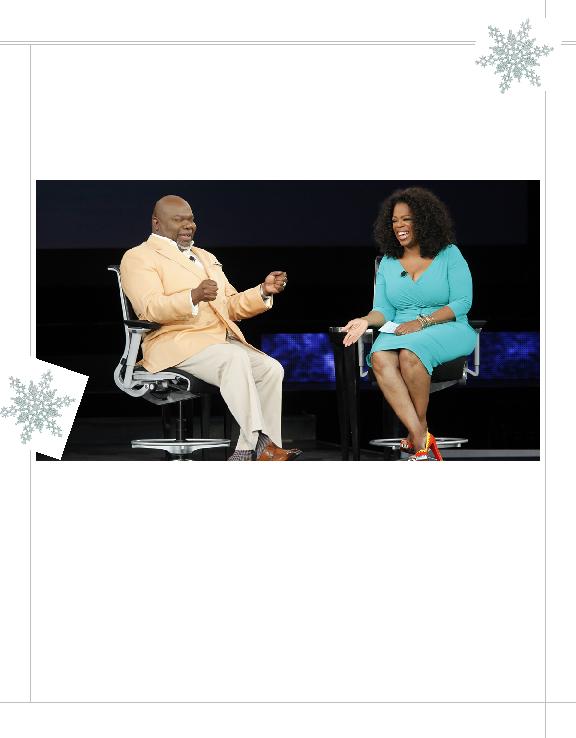 5 6
MegaFest Conference
Its FIrst MegaFest ConFerenCe
Dallas Hosts
Photo Credit: Vernon Bryant, Courtesy of The frontPage firm.
ith a name like MegaFest, expectations are
always high for Bishop T.D. Jakes' Faith and
Family Festival. Last August Jakes chose Dallas,
Texas, the location of his 30,000-member Potter's House
mega-church, as the host city for his annual event. Tens of
thousands of people attended the conference.
So how did Jakes ensure that this year's experience would
be new and improved? He added Oprah Winfrey, a taping
of Oprah's Life Class, and a faith-based film festival to the
lineup. The three-day conference, already packed with
general-empowerment sessions, this year combined the
ManPower, Woman Thou Art Loosed (WTAL), MegaYouth,
and MegaKidz conferences. Jakes said that the objective
of MegaFest is to build the Kingdom of God, not just by
feeding people spiritually, but also by addressing their
health and fitness, financial, and relationship goals too.
Ninety percent of conference attendees in the past have
been African-American, but at least one session discussed
the emerging demographic of the Hispanic community and
its implications for business, education, and society.
More than 225 nations and 75,000 participants--mostly
women--flocked to Dallas for the event, which was spread
over a three-square-mile area of downtown between
the American Airlines Center, the Kay Bailey Hutchison
Convention Center, and the Omni Hotel during Labor Day
weekend. There were so many women at the conference
that some of the mens' restrooms were designated for
women to accommodate the masses. Atlanta Pastor Creflo
Dollar hosted a ManPower session, Florida Pastor Paula
White spoke at the WTAL opening event, and Houston
Pastor Joel Olsteen and his wife, Victoria, hosted a joint
session. Each was like a church service featuring recording
artists in place of the choir. Smokie Norful, Kurt Carr, and
Tamela Mann were just some of the featured entertainment.