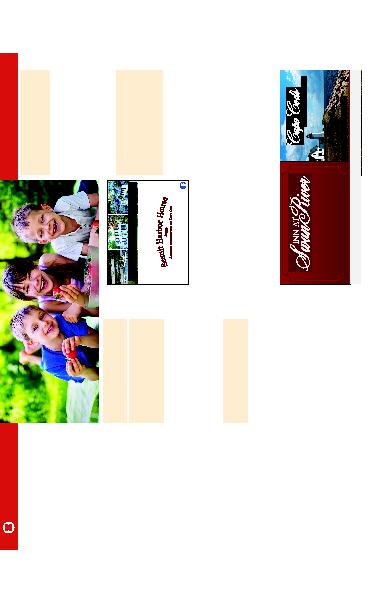 A gem of a hotel with distinct charm and
character. Convenient to the beach, restaurants
and shopping. Open year-round and perfect for
groups and extended stays.
InnAtSwanRiver
.com
Hidden Treasure
829 Main Street | West Dennis, MA 02670 | 800.628.0498 | info@InnAtSwanRiver.com
1421 Route 6A, East Dennis, MA | 508.385.3326
Over 50 Years of Cape Cod Hospitality!
Ranked in Top 5 Cape Cod Hotels by Trip Advisor
Close to beaches and boating · Homemade breakfasts
Pool, yoga, bikes, wi-fi · Gift shop
AUGUST
on the Dennisport Village Green at Stacey
Park, Hall Street, Dennisport 6 pm. Sponsored
by the Southside Civic Association. Fun family
night. 508.760.5950
THE VIKING 200 CARDBOARD BOAT RACE
9 am registration. 11 am race starts.
Sundancer's Restaurant 116 Route 28, West
Dennis. The Viking 200 challenges you to build
a boat entirely out of cardboard, duct tape,
glue, and paint and race around Bass River.
Prizes and awards. 508.272.2937
on the Green in Dennis Village at the Gazebo,
7 pm. Sponsored by the Village Improvement
Society, corner of Old Bass River Road and
Route 6A. Fun family night. 508.385.2175
7, 14 WEST DENNIS YACHT CLUB TEEN DANCE

7:30-10:30 pm. 259 Loring Ave (at the rotary at
West Dennis Beach). Call 508.398.9757 or visit
at the West Dennis Graded School House,
67 School St. West Dennis, 6 pm. Sponsored
by the Southside Civic Association. Fun family
night. 508.760.5950
13 CITIZENS BANK POPS BY THE SEA

5 pm (gates open at 3 pm) Hyannis Village
Green, South Street and Main Street, Hyannis.
Welcome one of the nation's finest and best-
loved musical ensembles-the Boston Pops
Esplanade Orchestra. Rain or shine
12 SAND SCULPTURE CONTEST
Town of Dennis, Mayflower Beach, 6-9 am
19 COLONIAL DAY AT THE MANSE

1736 Josiah Dennis Manse Museum,
10 am-4 pm. 508.385.2232
One mile swim, 2 mile kayak, 3 mile walk
sponsored by the Massachusetts Breast
Cancer Coalition. Nickerson State Park,
Brewster, 8:30 am. 800.649.6222 or
26 DENNIS SUMMERFEST 2017 FIREWORKS
27 DENNIS SUMMERFEST 2017
Start at West Dennis Beach. Parade to Cape
Playhouse, Dennis Village. Assemble at 10 am
parade at 11 am. DennisChamber.com
27 ANNUAL LAWN PARTY BARBECUE
and Giant White Elephant Sale: 10 am. Music
& food: 11:30 am ­ 2 pm. Liberty Hall, Main &
Upper County, S. Dennis. Old South Dennis
Village Association. Rain or shine.
Info at: OSDVA.org or 508.398.3831
SEPTEMBER
ANNUAL LABOR DAY 5K ROAD RACE
Johnny Kelley Park, Sunday 10 am start.
10 VILLAGE GARDEN CLUB OF DENNIS
1736 Josiah Dennis Manse Museum,
10 am-4 pm. 508.385.2232
16 THE DENNIS CONSERVATION TRUST
The Sandbar Restaurant Bridge, Lighthouse
Rd., West Dennis, 11am. More info:
DennisConservationTrust.org or 508.694.7812
17 26TH ANNUAL LAST GASP BIKE,
A 62-mile ride from Sandwich to
Provincetown to benefit local non-profit
organizations. To register or make a donation
visit thelastgasp.com
21 OLD FASHIONED CLAMBAKE hosted by the
Dennis Chamber of Commerce. Lighthouse Inn,
West Dennis, 5pm-8pm,
23 AUTUMN AT THE MANSE

1736 Josiah Dennis Manse, 1-4 pm.
508.385.2232
OCTOBER
1801 Jericho Historical Center & Barn
Museum, 12-3 pm. 508.385.2232
hosted by the Dennis Chamber of Commerce
West Dennis Yacht Club, 6-8pm. Sample
cuisine from local Dennis restaurants and
caterers, bid on silent auction items, and enjoy
a casual evening all to benefit the Lifeguard
Scholarship Fund. DennisChamber.com
NOVEMBER
10-12 5TH ANNUAL FIELD OF HONOR® 2017

DECEMBER
10 CHRISTMAS AT THE MANSE

1736 Josiah Dennis Manse Museum,
12-3:30 pm. 508.385.2232
10 DENNIS HOLIDAY STROLL

Dennis Village Green, 11am-3 pm
12 | DENNISCHAMBER.COM
DENNIS VISITORS GUIDE 2017 |
13