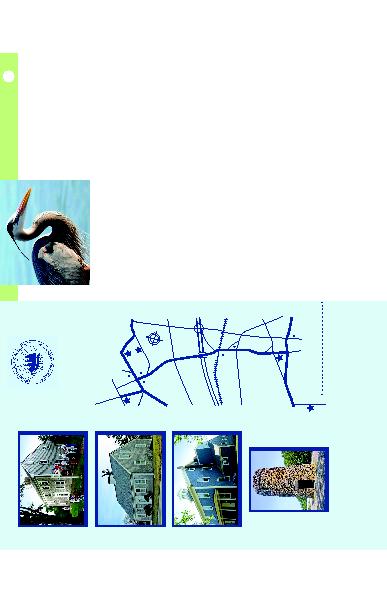 CAPE COD RAIL TRAIL
Location: On Rte. 134 across from Hall Oil
Company in S. Dennis; on the RR right-of-way.
Approximate length: It goes to Eastham,
approximately 20 miles. It is marked by a brown
and gold sign on Rte. 134.
Facilities: None. Ample parking.
CROWES PASTURE
Location: Is off of Route 6A by the Dennis-
Brewster line. Go north on School Street and
take the first right onto South Street, follow to
the end of Quivet Cemetery and park in posted
area if you want to hike. There is also a narrow
dirt road that goes towards the beach with
more parking along the way.
Approximate length: One mile to Cape Cod
Bay, then up the beach 1/4 mile to a sign "Vehicle
Trail" to return. About 2 1/2 miles round trip.
FRESH POND CONSERVATION AREA
Location: It is 6/10 of a mile from the light at
Upper County Rd. in Dennisport on Rte. 134
going south. Sign is green with white letters.
A formal dog park is located at the parking lot.
There are five trails: Trails I and 2 are below the
parking space; Trail 3 is north from the parking
space; Trail 4 should be considered abandoned.
Trail 5 (1/10 mile south) is beautiful woodlands;
however, one should be aware of private
property, wet ground and broken bridges.
Approximate length: Trail I is 20-30 minutes;
Trail 2 is one minute and leads into Trail 1; Trail 3
is also very short (5 minutes) and leads into Trail
1; Trail 5 is what you want to make it.
Facilities: 2 picnic tables and good parking.
About half-way around the ponds, the Scouts
made little handrails and bridges and cleared
the land. There is also a launching area for small
sail and row boats.
INDIAN LANDS & CONSERVATION TRAIL
Location: At the northern end of Town Hall
parking space, through the gate and take the
right-of-way path for 1500 feet or a 6 to 10
minute walk. There is a large map sign on
the left. Here the trail begins. Come back the
same way. Construction of Cape Cod Rail Trail may
interfere with trail during summer/fall of 2017.
Approximate length: 3/4 mile plus round trip
on right-of-way (30 minutes).
JOHNNY KELLEY RECREATION AREA
Location: At the corner of Bob Crowell Rd. and
Old Bass River Rd., S. Dennis.
Approximate length: 1 1/4 miles in length
and is a circular route. Facilities: Good, sandy
parking, basketball court, ball field, playground,
and handball court pavilion.
Facilities: Public bathrooms and Braille Trail for
ROMIG-JACQUINET & SIMPKINS NECK
CONSERVATION AREA
Location: Rte. 6A to New Boston Road. Two
houses past the Berrien Studio. On left-hand
side is a small paved area; around stand of trees
is the sign and road or path going south.
Facilities: None. Parking for two cars.
SWAN POND OVERLOOK
Location: From Rte. 134, take Upper County
Road to Searsville Rd. and then left on Center St.
Site is 1/2 mile on the right overlooking Swan Pond.
Approximate length: I to 1 1/2 miles. Facilities:
Picnic areas and benches along coastal bank;
WHITFIELD JOHNSON NATURE TRAIL
Location: End of Forest Pines Dr. off Rte. 134 in
E. Dennis. It is a circular trail.
Approximate length: 3/4 mile.
Take a hike, enjoy some
bird watching or simply
take in the views.
Historic Sites
Town of Dennis
SOUTH
DENNIS
P
A
1. Jericho House & Barn Museum
4. Josiah Dennis Manse & Old West
5. West Dennis Graded School
D
ennis
H
istorical
s
ociety
508.385.2232 ~ www.dennishistsoc.org
36 | DENNISCHAMBER.COM
DENNIS VISITORS GUIDE 2017 |
37