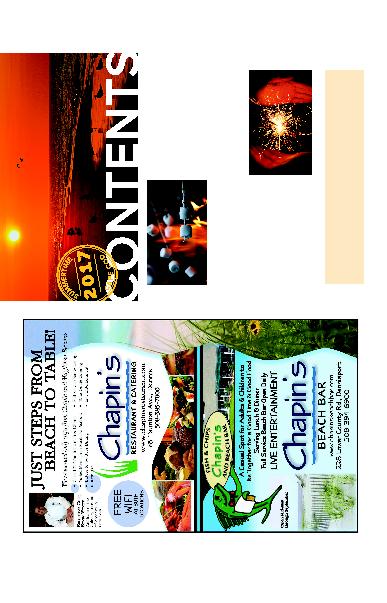 2
Welcome to Dennis Chamber of
5
6
8
9
11
14
15
20
22
Map of Dennis with Beaches
25
26
30
36
37
38
43
Even more to love about Dennis at
DENNIS
CHAMBER
.COM
DENNIS VISITOR GUIDEBOOK 2017 is a publication of the Dennis Chamber of Commerce. Published by Dennis
Chamber of Commerce, 242 Swan River Road, West Dennis, MA 02670, 508.398.3568, info@dennischamber.
com, copyright 2017. Reproduction in whole or in part is prohibited without written permission of the publisher.
Although every attempt has been made to ensure accuracy of information in this publication, the Dennis Chamber of
Commerce cannot assume responsibility for any errors or omissions. Some photos in this publication courtesy of the
Dennis Tourism Committee. Design and production by Lou Barnicle Graphic Design, 508.428.0204, loubarnicle.com.
DENNIS VISITORS GUIDE 2015 |
1