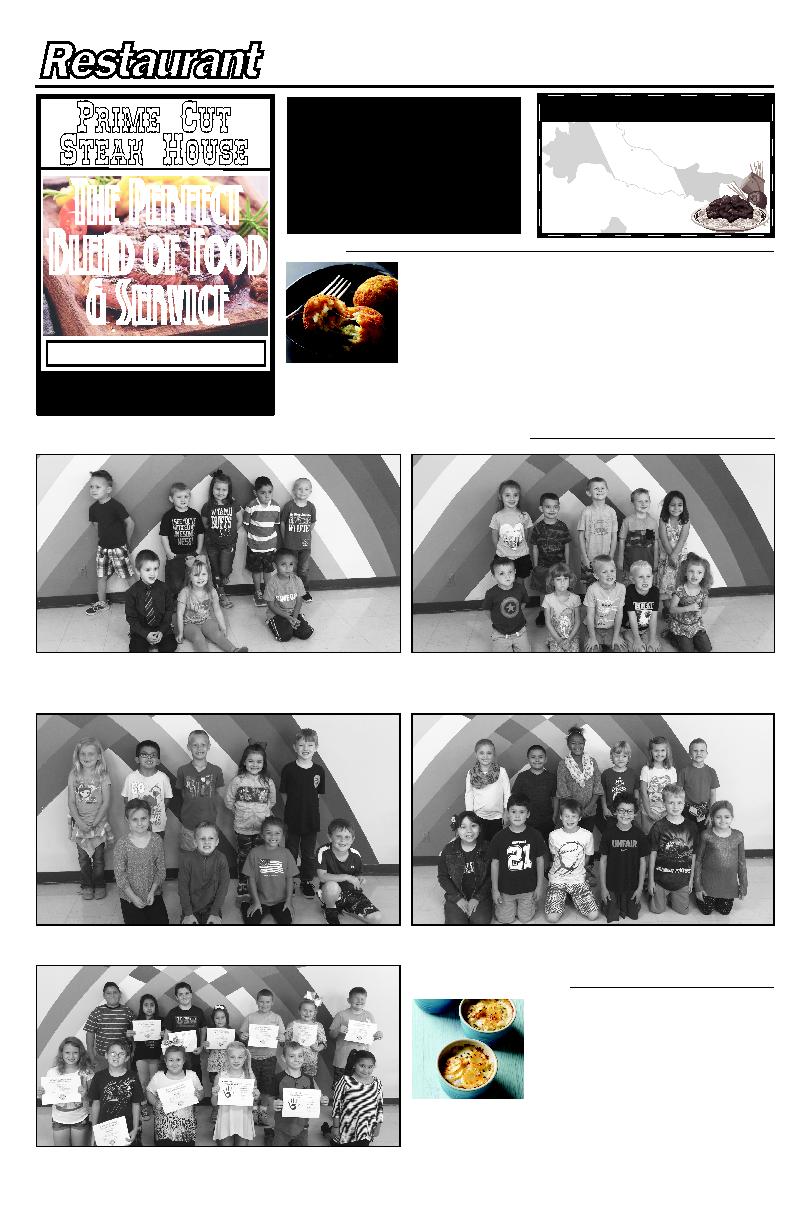 8
Thursday, October 12, 2017
The Shopper
2
Extra
Large
One Topping Pizzas
$
18
99
Bella's Italian Restaurant
1308 E. Wise · Bowie
940-872-3997 · 940-872-4913
Tues-Thurs: 11:00 am - 9:00 pm
Fri & Sat: 11:00 am - 10:00 pm
940-894-2039 940-894-2122
HWY 59 · 1 MILE SOUTH OF MONTAGUE
Ingredients
3 cups low-sodium chicken broth
2 tablespoons pine nuts, toasted
1/2 cup shredded mozzarella
1/2 cup shredded fontina cheese (2
2 tablespoons chopped fresh pars-
1/2 cup grated parmesan cheese
Vegetable oil, for frying
Directions
Bring the broth and 1/4 teaspoon
salt to a boil in a medium sauce-
pan over medium-high heat. Stir
in the rice, reduce the heat to low
and simmer until tender, about 20
minutes. Spread on a parchment-
lined baking sheet and let cool
Combine the pine nuts, mozza-
rella, fontina and parsley in a bowl;
Beat the eggs in a large bowl,
then stir in the cooled rice, the par-
mesan and 2/3 cup breadcrumbs.
Shape the mixture into sixteen 1
Put the remaining breadcrumbs
in a shallow bowl. Press your fi n-
ger into the center of each rice ball,
insert 2 teaspoons of the mozza-
rella mixture, then pinch the rice
around the fi lling to enclose. Roll
the balls in the breadcrumbs and
place on a parchment-lined baking
sheet. Loosely cover and refriger-
ate, at least 1 hour or overnight.
(If refrigerating overnight, roll in
more breadcrumbs before frying.)
Heat 1/2 inch vegetable oil in a
large saucepan over medium heat
until a deep-fry thermometer reg-
isters 350 degrees F. Working in
batches, fry the rice balls, turning,
until golden brown on all sides,
about 4 minutes. Remove with a
slotted spoon and drain on paper
towels; season with salt.
Ingredients
Unsalted butter, softened, for the ra-
1 1/4 cups grated sharp white ched-
1/2 cup grated parmesan cheese
1 tablespoon fi nely chopped fresh
1/4 teaspoon all-purpose fl our
Large pinch of cayenne pepper
1 1/2 pounds Yukon Gold potatoes (1
1/2 to 2 inches in diameter), unpeeled
Kosher salt and freshly ground black
1 cup plus 2 tablespoons heavy cream
Directions
Preheat the oven to 350 degrees F.
Generously brush six 6-to-8-ounce
ramekins with butter. Combine the
cheddar, parmesan, chives, fl our and
cayenne in a large bowl. Thinly slice
the potatoes a little less than 1/8 inch
thick (a mandoline works well) and
add to the cheese mixture. Add 1 tea-
spoon salt and a pinch of black pepper
Divide half of the potato-cheese
mixture among the prepared rame-
kins, fi lling them about halfway (ar-
range the potato slices so they go to
the edge of the ramekins). Top with
half of the cream. Repeat with the
remaining potato-cheese mixture and
Transfer the ramekins to a baking
sheet, cover each with foil and bake
until the liquid is bubbly and the
potatoes begin to soften but are not
completely cooked through, about
40 minutes. Increase the oven tem-
perature to 425 degrees F, uncover the
ramekins and bake until the potatoes
are tender and golden brown, 15 to
20 minutes. Run a knife around the
edges and let stand 10 minutes before
Bowie Elementary Extra Effort First Six Weeks
Extra Eff ort: Headstart & PreK
Back Row: Landin Wakefi eld, Jimmy Sutton, Addy Lynn Lake, Luis Devora (not pictured), Diego
Covarrubias, Clayton DeMoss; Front Row: James Graham, Elena Meyers, Faithlyn Worthy (not
pictured), Julian Martinez
Extra Eff ort: Kindergarten
Back Row: Archer Ferguson, Raivin Stewart, Coleman Holloway, Syd Hamilton, JoAnna Parr
(not pictured), William Teston (not pictured), Raine Lee; Front Row: Hadley Harrison, Adrian
Alvarez, Cooper Taylor, Mason Blackburn, Brooklin Mireles
Extra Eff ort: 1st Grade
Back Row: Lasey Horton, Izaak Diaz, Ranger Carle, RyLea McWilliams, Connor Evans, Rikki
Blanton (not pictured); Front Row: Morgan Mundee, Ronan Carr, Layla Browder, Bryton Horton
Extra Eff ort: 2nd Grade
Back Row: Katie Smith, Isaak Pena, Jazmine Ensey, Braxton Foster, Kodie Duke, Colt Henry,
Landon Fugate (not pictured); Front Row: Stephanie Gonzalez, Jordan Camarillo, Jake Mayfi eld,
Christian Whatley, Cody Chandler, Hailey Warren
Extra Eff ort: 3rd Grade
Back Row: Luis Covarrubias Mercado, Sueheyle Chavez, Rosten Carnes, Samara Velez, Walker
McElroy, Dallie Monroe, Rayson Handyside; Front Row: Jaylee Wolsey, Aiden Willett, Lydea Ivey,
Ellie Mowery, Lane Whitfi eld, Emory Villarreal