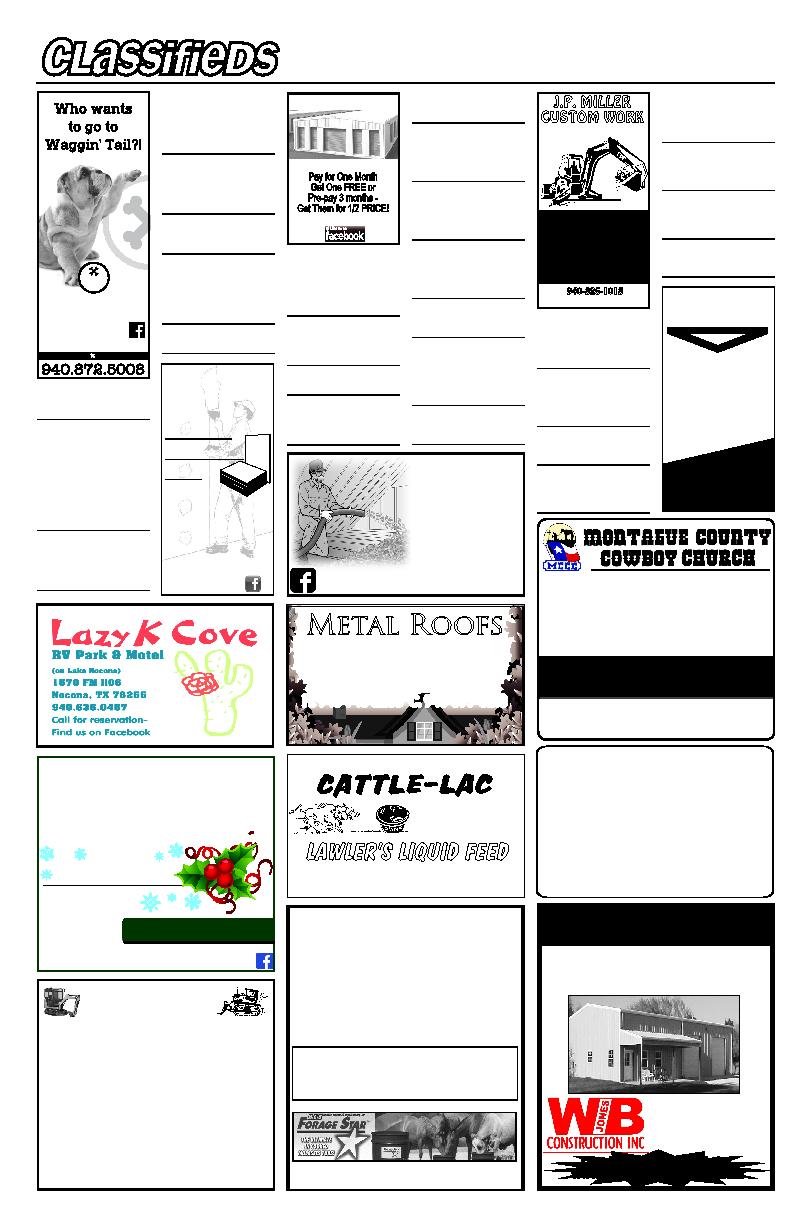 COASTAL BERMUDA HAY:
High protein square bales, $7. 940-
WE ARE HIRING for CDL
Class A and B drivers. $16.50 to
$17/hour, raises go up every few
months based off performance.
Must be 25 years of age, 2 years
holding a CDL license, clean driv-
ing record, overtime after 40 and
we average 50-55 hours a week.
Please call or text 903-954-1380.
HORSE BOARDING, STALLS
& PASTURE: Full service avail-
able. Lazy-H Ranch, Sunset/
Alvord area. 817-229-3880.
GOOSENECK HITCHES
installed & serviced. Call today
for appointment. Portable sand-
blasting. Woods Custom Trailers.
940-872-5266. We accept all major
AUTISM SUPPORT GROUP:
Every third Thursday of the month,
6:30 p.m. Gainesville, TX at the
North Texas Medical Center in the
FOR SALE: 1999 Chevy 1500,
loaded. Call after 5 p.m. 940-841-
FOR SALE: Registered Hereford
bulls, ready to serve, 18-20 months
old, pasture raised, heavier calves.
Mark P Ranch, Luella Pirtle. 940-
872-1826, Clyde Johnson, 940-
HELP WANTED: Mike Moore
Roofi ng. 940-872-2085. 34-37p
BACKHOE SERVICE AVAIL-
ABLE IMMEDIATELY: Small
or large. Culverts, trash pits, cel-
lars, stock tanks, etc. $60 per hour,
4 hour minimum. 940-366-9973.
2002 GMC EXT. CAB, ½ ton,
full power & air, black, nice truck,
$4,475. R&R Auto Sales, 406 E.
Wise, Bowie. 940-872-3843. 36p
2 HORSE TRAILER: $1,500.
GARAGE DOORS & OPEN-
ERS: Repair & new. 25 years
experience. Retired military. 940-
HANDYMAN: Roofi ng, roof re-
pairs, painting, carpentry, odd jobs.
PASTURE LEASE WANTED:
Ulbig Cattle Co., looking for 50 to
1,000 ac. Will maintian like it's my
own. Chris Ulbig. 940-841-0021.
SUNSET FLEA MARKET: Ev-
ery Saturday, 9 a.m. - 1 p.m. 700
Spur 511, shopper/vendors wanted.
Consignment & storage available.
CROSS M CATTLE is needing
pasture to lease for cattle. Please
contact Cody at 806-333-7986,
940-268-3710, leave message.
GUITAR LESSONS FOR BE-
GINNERS: 940-366-3055.
ROAD BASE DELIVERED:
Also top soil, select fi ll, sand, red
clay, and all types of concrete work
and metal buildings. Wise and sur-
rounding counties. 817-897-6785.
PASTURE LEASE WANTED:
50 to 300 acres preferred. 940-399-
FANDEL'S A/C & HEATING:
Now is a good time to have your
heater checked. Visa, Master Card.
TACLB 011443E, 940-872-4779.
NEED TRACTOR WORK?
Call Terry Cantwell at 940-366-
5281. Tiller, brush hog, fi nish
mower, box blade, gardens pas-
ALLEN STORAGE: Lighted &
gated storage units, Bellevue. 940-
928-2154, 940-841-0694. 30tfc
PROFESSIONAL DOG
GROOMING: Shirley Beggs,
Montague, 940-366-1781. No
SHILLINGBURG CONSTRUC-
TION: Fill sand, road base, top
soil. Serving Bowie and surround-
ing areas for 35 years. Call 940-
NARCOTICS ANONYMOUS:
Meetings every Tuesday and
Thursday, 7 p.m. - 8 p.m., 200
NEW CHROME BRUSH Guard
for 2nd generation Dodge: Includ-
ing mounting hardware. $285. 940-
300 GALLON BACK plastic wa-
ter trough, $150. 940-825-5005.
The Shopper
16
Thursday, October 12, 2017
ALL TYPE OF HAULING
& EXCAVATION
Call When Quality Counts!
940-627-6868
FM 51 South
5 miles south of Decatur
Get your bids on composition shingles, then call
Andy and see what little difference there is in 26
GA metal. End your roof repair!
*Also do Shingles & Light Construction
H. 940-748-2233 C. 940-399-8218
DRYWALL
New or Remodel
Clean and
Professional
Work
Gamblin's
Insulation
Specializing in
Spray Foam Insulation
Spray Foam Equipment Rental
gamblins spray foam insulation
Mobile 409-223-8866
ROTH
FERTILIZER
Custom Blending & Spreading
Wildlife Seeds · Bagged Fertilizer
Hudson Forage Star Supplement
Tubs for Cattle & Sheep
940-872-1471
BOWIE & SURROUNDING COUNTIES
940-841-1568
CUSTOM GATES AND GATE ENTRANCES
METAL ROOFING BARN HOUSES CARPORTS
Check out our new website,
www.wbjonesconstruction.com
Large & Small Ponds, Pond Clean Out,
House Pads, Trucking & Gravel, Sand,
Topsoil, Gravel Roads/Culverts,
Brush Clearing, Timber & Mesquite
940-872-6186 · 306 Lindsey St. · Bowie, TX 76230
Owner/Publisher.....................................................Carol Head
Production Manager............................................Terie Overbey
Production.....................................................Bradley Hammer
Advertising Sales...............................................Jamie Fenoglio
Established March 27, 1980, The Shopper is a FREE publication
distributed to all Montague County residents and many in the surrounding
area. The present circulation is 13,809. Out of county subscription rates
The Shopper will never intentionally print any erroneous refl ection
upon character, standing, or reputation of any individual or fi rm. The
Shopper reserves the right to refuse any or all material submitted for
publication which seems detrimental to the paper or the communities
we serve. No material may be reproduced without the express written
consent of The Shopper, including, but not limited to, classifi eds, articles
The Shopper is not responsible for copy errors, typographical errors, or
any unintentional error that may occur in advertising other than to correct
it in the next issue after it is brought to the attention of The Shopper.
First insertion of all types of advertising is proof of publication, and all
adjustments will be made to the fi rst appearance only.
Pastor Joe Caballero and the entire congregation
invites you to join us. For more information,
please call MCCC at 940-894-2090.
Saddle Team Roping
October 22, 2017
Books Open at 1:00 PM · Rope at 2:00 PM
Saddles will be awarded to the high money winner of each roping.
For more information call Monty Stockard 940-781-9358.
Check out ier on FB - Straight Up Productions
Located At 1600 W. FM 455 Our Sunday Services Start at 10:30 am
WEDNESDAY NIGHT SERVICES
Dinner 6:00 pm · Classes 6:15 pm · Services 7:00 pm
The Young Homemakers of Bowie
invite you to join us for our annual
FOR MORE INFORMATION CONTACT KIM BEAVERS AT 940-366-1389
LIKE OUR PAGE "BOWIE YOUNG HOMEMAKERS" ON FACEBOOK
November 18, 2017 from 9:00 am - 4:00 pm
Bowie Community Center · 413 Pelham St. · Bowie, Tx
LIQUID SUPPLEMENT
helps you get the most out of
your cattle...and your pasture.
More meat per acre.
LAWLERS LIQUID FEED
Bill Lawler - Authorized Dealer
940-872-4312 or 841-1731
Stimulates rumen activity-better
performance, less sickness, eases
weaning stress.
LIQUID SUPPLEMENT
helps you get the most out of
your cattle...and your pasture.
More meat per acre.
LAWLERS LIQUID FEED
Bill Lawler - Authorized Dealer
940-872-4312 or 841-1731
81 STORAGE
5x10.....$30
10x10.....$40
10x15.....$50
10x20.....$60
940-872-1359
81 STORAGE
MOVE-IN SPECIALS
916 Hwy. 81 N. · 872-1359
W
T
TAIL
WAGGIN'
BOARDING & TRAINING
EST. 2007
-Septic Systems Installed-