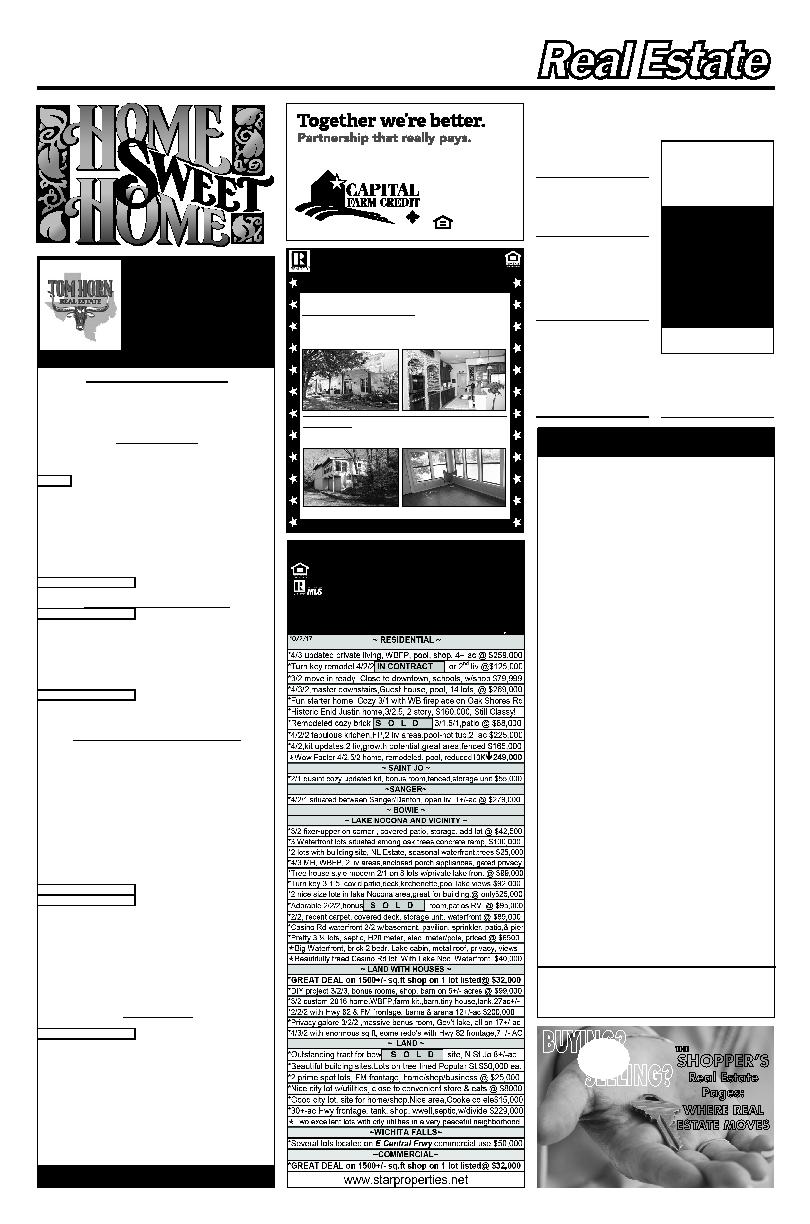 The Shopper
Thursday, October 12, 2017
15
FOR RENT: Clean 2BR, 1BA
with CH/A. 304 Cherry Street
in Bowie. References required.
No pets. $575 per month with
$575 deposit. 940-872-1421.
36-37c
RV FOR RENT: $85 plus
electric & deposit. Payable
weekly. 1-2 persons, no pets.
817-937-8991.
ESTATE BUYOUT: Quick
cash for real estate, antiques,
equipment, & livestock. We
pay your closing cost. Call Josh
at 940-841-0180 or Sue Swint
at 940-841-2328.
HWY 59 N: Across from
Bowie Plaza, 2.9 commercial
business acres. Has commer-
cial building, 3BR home & the
rest is open land. Sell all or part
by owner. Call for details. 940-
781-8760.
FOR RENT: 410 E. Tarrant
St., 1BR apartment, $550/
month, no smoking, no pets.
Application required. For more
info call 940-872-8888. 29tfc
FEATURED HOUSES WITH LAND
·BEAUTIFUL RANCH FOR SALE! 137 ac. 5,000 sq ft
home, 4BR, 4BA. Big party barn, steel frame shop. Large equip/
hay barn. Ponds, great hunting. A showplace! Near Forestburg.
·A MUST SEE! 13 ac. beautiful large 4BR, 3BA custom home.
LAKE PROPERTY
·BEAUTIFUL HOME - 2068 Weaver Rd. Ready to enjoy lake
home w/ guest house and large metal shop, dock, boat slip, and
sprinkler system. Price Reduced.
·SOLD - 179 Country Club Dr. Nocona Hills Golf Course. Many
amenities! 295 acre 18 hole golf course.
·LAKEFRONT! - 518 Bayshore 4BR, 2BA very nice! Lake
·TWO LAKE FRONT LOTS - 181 Cherokee Trail - Nocona.
·MOTIVATED SELLER/PRICE REDUCED - Large DW
home on 3 big lots. 3BR, 2BA, 2 living areas. Great views! #8
·AFFORDABLE LAKEFRONT - 263 Casino Rd, 3/4 acres,
·UNDER CONTRACT - 5 Lake lots (2 lakefront) on Cortez,
NOCONA/BOWIE RESIDENTIAL
·UNDER CONTRACT - 224 Carolyn Rd., Nocona. 5BR,
3BA, 2FP's, swimming pool, pool house.
·LOVELY HOME - 603 W. Cedar, Nocona. 3BR/2BA, attached
garage, patio, fenced. RV hookup.
·NEW LISTING - 208 Oaklawn, Nocona. 3BR, 2BA, beautiful
home, quiet neighborhood.
·NEW LISTING - 401 11th Street. 3BR, 2BA brick, large
mature trees. Quiet location.
·UNDER CONTRACT - 509 E. Cedar, Nocona, corner lot.
·VERY NICE HOME! - 510 W. Maple in Nocona. 3BR, 2BA.
·BEAUTIFUL LARGE HOME - Large 3BR, 3BA brick
home, 311 Pecan. 4 car garage, open fl oor plan, large workshop.
ACREAGE/DEVELOPMENT PROPERTY
·GREAT LAND - Sold separately or together. 2-26.5 acre tracts
and an 82 acre tract. Lots of wildlife, near Forestburg.
·80+ ACRES - 787 Greenwood Ln. Forestburg. 80+ rolling
acres, nice building site.
·VERY NICE - 145 Acres. Rolling with high hills. Cross
Fenced.. Near Valley View Church on FM 103. Motivated Seller
·PINK WILSON RD, BOWIE - 11 ac. building sites.
·ROLLING HILLS - 90 acres east of Nocona on FM 1956.
·NEW LISTING - 37+ acres on Barrel Springs Rd. South of
Nocona, great building sites, pond.
·WILL DIVIDE 340 Acres. Carminatti Road. County road
entrance. Beautifully wooded, lots of elevation changes. Creeks.
·GREAT VIEWS! - 100 Hill Street, Nocona. Development
potential. 60 ac. Some city utilities.
·UNDER CONTRACT - 15.5 ac building site, Wigwam Rd.
·UNDER CONTRACT - 109 acres off of Well Service Rd in
·160 ACRES - FM Hwy 103 N, Nocona. Pasture land, ponds!
·NEAR OLNEY - 301 ac and nice pasture and ponds.
·DEVELOPMENT PROPERTY! - 10 ac. just North of
Nocona on FM 103. Perfect for small subdivision. 7 ac. under
·JUST OFF HWY 59 N of Bowie. Tage Rd. Approx. 8 ac. water
·GREAT ACREAGE! - 13910 Hwy 287 S. Access Road. 34.8
acres. Great for home or commercial. Bowie.
COMMERCIAL
·13910 HWY 287 S - 44 acre. Great for residential or commercial.
·UNDER CONTRACT - 1210 E. Wise, Bowie. 16,000 soft
metal bldg with 2 loading docks, 3 phase power, offi ce space.
·GREAT BIZ OPPORTUNITY - 4,800 sq ft. Restaurant and
sports bar in Nocona. Newly remodeled.
·DOWNTOWN LOCATION - 207 Clay Street, Nocona.
3,100+ sq. ft. w/ lots of storage. Recently remodeled.
·44 AC. - Hwy 287 Frontage Rd. Former motorcross track. Water
well, creek with live spring, great commercial property.
·HIGH VISIBILITY property near Bowie's largest retailer.
8.27 acres ready to develop!!
504 MILL ST. - 1700 sq. ft. bldg for commercial use.
DEVELOPMENT PROPERTY! - 6.7 acres Commercial
NOCONA/BOWIE
309 Clay St. · 940-825-6094
Cell Phones:
Matt Fenoglio- 940-867-4381
Judy Moore- 940-366-9070
Angie Odom- 940-367-2362
Paul O'Dwyer- 940-257-4282
Gary Eldred - 940-235-0843
VERY NICE - 4 bedroom, 2 bath home near Nocona Lake.
Fenced yard, garage, carport, storage buildings.
$89,900
MOTIVATED SELLER - 3 bedroom, 2 bath, newly remodeled
home just outside city limits. New kitchen with appliances, new
flooring, much more. Move in ready. Wise Electric.
$129,900
NEARLY NEW - 3 bedroom, 3 bath, 2 story home on 7
wooded acres. Small apartment, shop building, storage building.
$399,500
NEAR SCHOOLS - 3 bedroom, 2 bath home, 1 car garage,
vinyl siding, fenced yard.
$69,500
NOCONA HILLS - 2 adjoining lots with many nice oak trees.
$7,990
NEAR DOWNTOWN - 2 bedroom, 1 bath, brick home, 1 car
carport. Needs some TLC. $
39,500
COMFORTABLE - 3 bedroom, 2 bath home. Updated kitchen,
fireplace, patio, large pecan trees, garage, storage.
$67,900
NOCONA LAKE HOME - 4 bedroom, 3 bath, full guest
suite. Dock, covered wrap around deck, covered patio, storage
buildings, shop, carports. Beautiful lake view.
$289,500
29 ACRES - 2 bedroom, 2 bath, brick home. Patio, carport,
small apartment, storage building, barn & corral, pond.
$275,000
ENJOY THE POOL - with this 3 bedroom, 2 bath brick.
Jacuzzi tub, sunroom, covered patio, privacy fence, large metal
shop building. Much more.
$185,000
WATERFRONT LAKE LOT - on Bridgeport Lake. Trees,
gated community. Nice building site.
$85,000
2.1 ACRES - 3 bedroom, 2 bath, brick, garage, carport, storage
building, fenced, patio, large metal shop building on paved road.
$214,900
CORNER LOT - 3 bedroom, 1 bath brick, carport, storage
building, storm cellar, fenced. Nice cabinets with range,
$69,500
NICELY UPDATED - 3 bedroom, 1.5 bath brick home outside
city on Wise Co-op electricity. Garage, carport, patio, fenced
$112,500
3.69 ACRES - wooded, on paved road. $25,000
3 BEDROOM - 2 bath home, 2 car garage, large room upstairs,
storm cellar, appliances included.
$59,900
BUILD - 2 nice lots in good location. $15,000 and $27,000
LARGE METAL SHOP BUILDING - Large work shop area,
5 offices, break room, 3 restrooms, insulated, 2 overhead doors,
storage spaces. Suitable for many uses.
$229,500
OFFICE BUILDING - Reception room, 4 offices, kitchen,
restroom. Paved parking lot. Located in a high traffic area.
$92,500
118 ACRES - Near Old Bowie Lake, 2 ponds, water well, paved
road frontage, fenced and cross fenced.
$3,250 acre.
FOR RENT- single office with rest room. Call Terry Gunter
for info.
200 Smythe · Bowie · 872-3082
Terry Gunter 872-3314 · 531-1934
Stacy Gamblin 940-841-0408
Ireta Overstreet 940-841-3246
BOWIE OFFICE
PROUD MEMBER OF THE FARM CREDIT SYSTEM
TAR Properties
Nocona, TX 76255
Anna Hickman ~ 940-825-3132
Connie O' Neal - Charles May
940-872-4102 · 940-366-1776
MLS
JC Family Property Investment Team, LLC
Lake Property · Ranches · Residential
Carolyne Ledbetter, Broker Relocation Specialist
LAKE LIFE - Waterfront on Amon Carter, 2BR, 1BA,
Living Rm, Sun Rm, furnished, storage, garage,
REDUCED $139,000
BEAUTIFUL TWO STORY w/ fantasic views, 4BR,
3BA, 2LAs, master down, 2 dining areas, library,
computer center, stone FP, deck, big gar., shop,
REDUCED $415,000
CAMPERS
PARADISE
RV PARK
Site rentals starting at
$350/mo.
· 30 & 50 amp available
· 10% propane discount
for all residents
· Inquire about our
on-site trailer rentals
940-872-2429
OR
THE
SHOPPER'S
Real Estate
Pages:
WHERE REAL
ESTATE MOVES
Call Jamie today to place
your REAL ESTATE ad.
940.872.6186