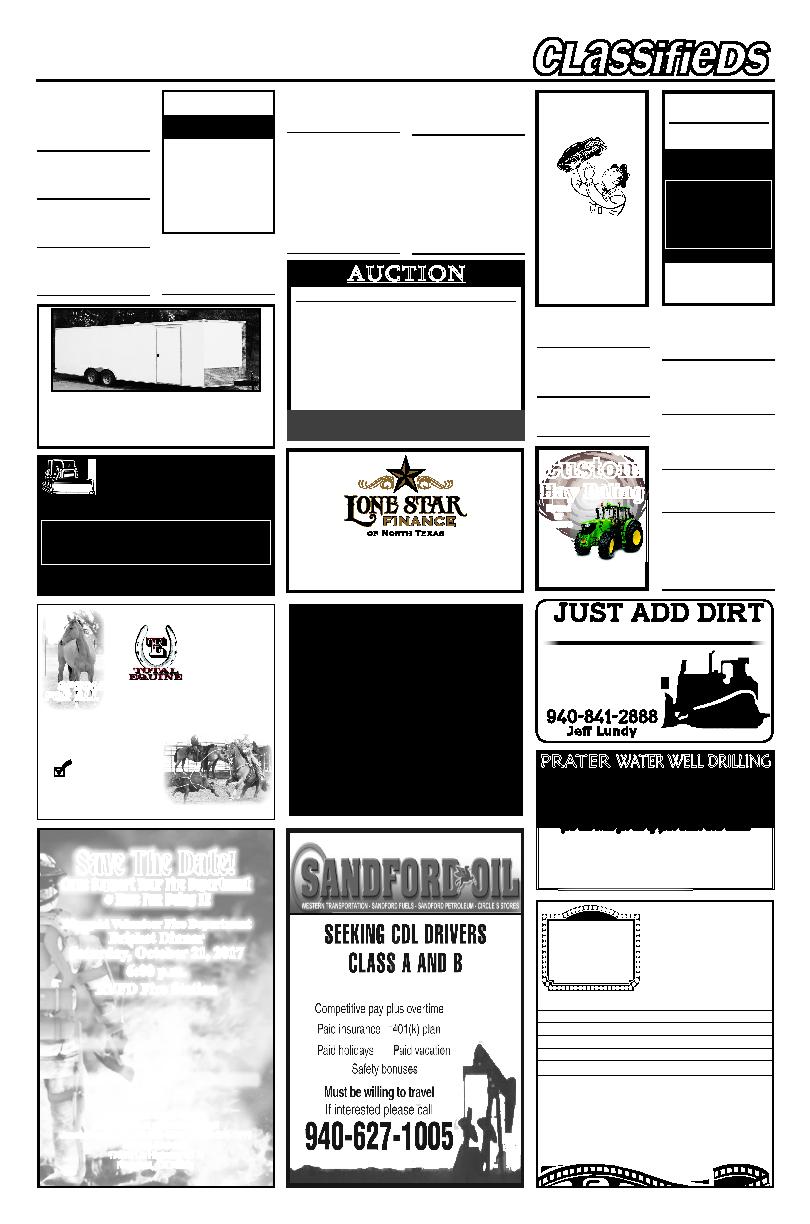 The Shopper
Thursday, October 12, 2017
3
FRESH SHELLED PINTO
beans available around the fi rst
part of November. Call now and
place your order. 10lb. bag/$30.
580-276-5644. Please leave mes-
LOOKING FOR utility lawn-
mower trailer with tailgate, cheap
but in good shape. 940-872-2115.
COASTAL HAY: $45 for 5x5.5
round bale of 2017 fertilized
coastal. Old Bonita Rd. 940-987-
WANTED: Reliable person to
work around home for miscel-
laneous jobs. No electrical, no
CALL 940-366-6077 if you need
tree trimming, yard mowing, trac-
tor work, brush hog, storm clean
up, dirt work. Montague County &
FOR SALE: Hardey Board sid-
ing. 144 pieces. 1/4 x 8 1/4 x 12
foot. Take all, you load. $700. 940-
NOCONA GENERAL HOSPI-
TAL is taking applications for a
full-time Offi ce Clerk and Physi-
cal Therapist Aide. Duties will
include offi ce duties and minimal
patient care. Apply online at www.
noconageneral.com or in person at
Nocona General Hospital 100 Park
Road, Nocona, TX or contact Paula
Clark at (940) 825-3235 ext. 106.
ESTATE SALE: Saturday, Oct.
14th, 8 a.m. - 5 p.m. 403 Roach,
Bowie. Lots of antiques and col-
XRT PRO-DIESEL downloader
computer chip! Vehicles: Dodge
Cummins 2003-2007 5.9L; 2007-
2009 6.7L; 2010-2012 6.7L --Ford
Powerstroke 2003-2007 6.0L;
2008-2010 6.4L; 2011-2012 6.7L
-- GM Duramax 2007-2010 6.6L
LMM; 2011-2012 6.6L LML. For
details and price. Call 940-841-
I BUY OLD guns, coins, & jew-
elry. Call Robert Fenoglio, 940-
COASTAL HAY: $45, & $50.
Will deliver. Robert Bull. Leave
message. 940-389-1532, 940-389-
HIRING CDL DRIVER for sep-
tic tank service. Full or part time.
THRIFT ANGELS: Federal
Non-Profi t 501c(3). Public Char-
ity 509(a)(2). Donations to Thrift
Angels are tax deductible. 32-37p
1993 F150 XLT Regular Cab:
Long bed, 4x4 standard transmis-
sion, 4.9 6 cyl. $3,500. 940-872-
ESTATE/BARN SALE: 1834
FM 1201, Gainesville 76240. Oc-
tober 12th-14th, 8 a.m. - 4 p.m.
BOAT MOTOR REPAIR:
Bowie/Sunset. 40 years experi-
SAND BLASTING, painting,
lawn furniture, beds, tables/chairs,
trailers, portable sand blasting, just
about anything. Wood's Trailers,
940-872-5266. We accept all major
(2) 3500lb Axles, elec. brakes, rear ramp, sidedoor
2-12V lights w/switch, plywood walls & fl oor, roof vent,
$4050 Cash Pick Up at our Factory in Georgia,
Call for other sizes, colors & options!
www.dixontrailersales.com · William or Tim ·1-888-923-4966
CHECK OUR WEBSITE FOR MOVIE TIMES!!!!!
MOVIE LINE 940-627-5522
HAPPY DEATH DAY--OCT. 12TH--7PM
Follow us on Facebook
Movies & Times Subject to Change
Check our website for movie times!!!
FOOD CAN DRIVE FOR WARM STARTS OCTOBER 1
BRING 2 CANS OF FOOD & RECEIVE A SMALL POPCORN
THOR: RAGNAROK · DADDY'S HOME 2 · JUSTICE LEAGUE
Ringgold Volunteer Fire Department
Brisket Dinner
Saturday, October 21, 2017
6:00 p.m.
RVFD Fire Station
Many Prizes
One Door Prize · Twenty Raffle Chances
Auction Items
$
5
00
Per Ticket
Brisket Dinner with all the trimmings!
If you would like to donate,
please contact a member or call
Janet Simpson at 940-934-6317 or 940-841-1111
Save The Date!
Come Support Your Fire Department
& Have Fun Doing It!
For more information & to order contact:
Scott Head · 940-233-0514
SPECIALLY FORMULATED FEED
FOR ALL AGES & ACTIVITY LEVELS
BUILDING A BETTER HORSE
ONE SCOOP AT A TIME
Unique alfalfa-based complete, extruded feed fortifi ed with
vitamins, minerals & specialty ingredients in a highly palatable
& digestible form.
See the diff erence Total Equine can make....
Shiny Hair Coat
Greater Muscle Development
Increased Trainability
Improved Mental Attitude
Better Joint Health
Improved Hoof Quality
"All Around
Performance
Horse"
Dos Chiles is now hiring for Servers full or
part time, please apply in person from
8-11 am or from 2-5 pm daily.
Dos Chiles esta solicitando meseros,
meseras, cocineros, bus boys, lava platos,
para tiempo complete o medio tiempo. Apli-
que en persona de 8-11 am y de 2-5 pm diario.
1001 W. Wise St. · Bowie, TX 76230
309 Clay St. Nocona, TX 76255 940-825-3100
CASH LOANS
loannocona.com
PRATER WATER WELL DRILLING
h 50 years experience Prater is the name
you can trust for all of your water well needs.
Wells drilled, cased with 4 1/2" I.D. Sch. 40 P.V.C.
Gravel packed and cemented
Pressure cementing & pump service
House Pads
Build & Clean Ponds
Pasture Mowing
Clean Fence Rows
Brush & Mesquite Clearing
Sand · Gravel · Topsoil
Roads
Oil eld & Farm Welding
House Pads · Ponds
Fence Rows · Roads
Creek Crossings · Gravel
Skid Steer · Backhoe
Dozer Service
Sat. October 21, 2017 at 10:00 AM
Ryan, OK · Owner, John Younce
Approx. 5 miles East of Ryan, OK on Hwy 32
Most 1 Owner, Nice Set of Equipment
Case 335 1500 hrs, Case 130 3500 hrs
JD 6430 100 hrs, O/H Bin, Hay Equipment
Trucks, Welder, 250 Bales hay
Complete Sell Out Good Sale!
LB A
uction
· 580-276-5961 · TX6182
www.lbauctionok.com
Nocona · 7:30-8:15
at McNabb's Feed
Bowie · 8:45-9:30
at 101 Feed
Jacksboro · 10:15-11:00
at H Brand
"LIKE" us on Facebook!
1-800-643-8439
www.fi shwagon.com
117 Fairway Dr. in Nocona Hills
Collection of dolls, angels,
sewing notions, furniture,
crystal, too much to list.
Well worth the trip--priced
Round
or
Square
HAY
For Sale
Call Jason Brown
A/C NOT
WORKING?