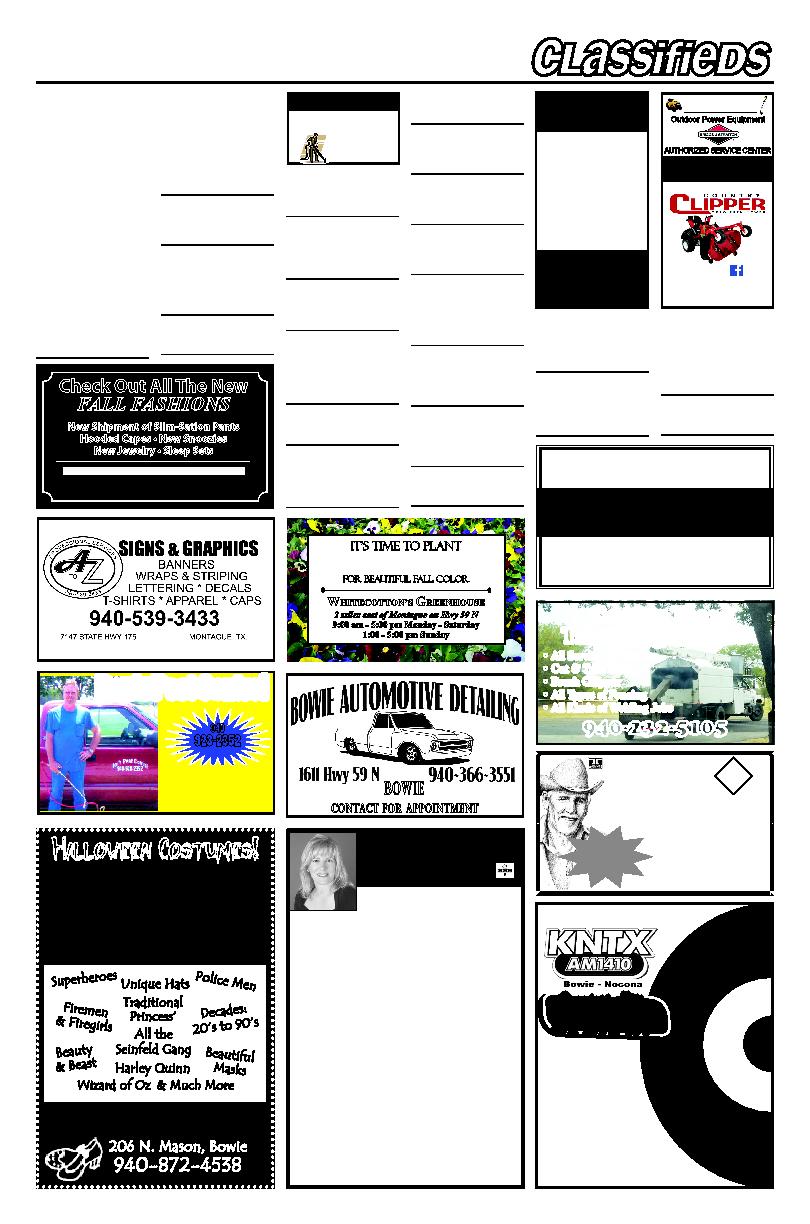 THE MONTAGUE COUNTY
CHILD WELFARE BOARD
(MCCWB) is seeking a Licensed
Professional Counselor (LPC)
to counsel children in Montague
County. Our goal is to provide
counseling for children who've
been abused and neglected or
have been referred to us by county
schools so that parents are not
forced to drive great distances to
provide their children care. This in-
dividual should be willing to travel
to all towns and schools within
Montague County and provide
counseling at the Child Welfare
Board house in Bowie, county
schools, churches, or other desig-
nated places. The MCCWB will
pay counselor per case, at amount
discussed and agreed upon before
hiring. If interested, please down-
load fi ll out the application: www.
montaguechildren.com. We will be
accepting applications through the
CELEBRATE RECOVERY:
Need help recovering from your
hurts, habits & hang ups? (Alco-
hol, drugs, abuse, divorce, anger).
We can help. Join us Thursday eve-
nings 7 p.m. - 8 p.m. Lighthouse
Church, 2998 Hwy. 59 N., Bowie,
TX. Transportation available as
needed. Call us at 940-872-1429.
FOR SALE: Whirlpool Gold side
by side, water and ice in door. Call
940-531-4002 or 214-676-4816.
JOE'S TREE TRIMMING: 11
years in business. Free estimates.
Limb & leaf removal, hedge trim-
ming, scrap metal removal. Gutter
cleanout, fi rewood. 940-366-4545.
1976 115 HP, Evinrude, boat trail-
er, extras. $650. 817-996-0771.
BACKYARD SALE: 1689 Hwy
81 N. 8 a.m. on Friday & Saturday.
Clothes, furniture, decorations,
YARD SALE: Oct. 13th & 14th,
950 School House Rd., Forestburg.
Baby items, furniture, dishes,
clothes, linens & lots of misc. 8
2006 FORD FX4, 4x4, all leather,
windows, locks, tilt, cruise, 117K
miles with lift kit, $11,750. 940-
BOWIE RV COMMUNITY:
RV's Available for rent. $400
monthly rate plus electricty. $200
deposit required. Free cable, water,
waste, and on site garbage. 940-
FREE: Two heavy duty wooded
computer desks. 940-928-7072.
FOR SALE: $200 cord of wood
stacked and delivered. Chicken-
house, 16 ft. long withnesting
boxes and run, with electricity con-
nection, $50. 940-255-7462. 36p
BLACK ANGUS BULLS: SS
Objective genetics, docile, virgin.
GARAGE DOORS & OPEN-
ERS: Repair & new. 25 years
experience. Retired military. 940-
YARD SALE: 605 Montague
Hwy. Friday, October 13, 8 a.m. - 2
p.m. Vacuum, microwave, misc.
FOUR TIRES AND WHEELS
for Dodge 1500 pickup: LT265 75
R16 Michelin, 70% tread. $240.
FARMALL B TRACTOR gas, 4
cyl., 12 v alt, electronic ign, strong
clutch, PTO. Starts every time.
Ready to work or restore. Located
south of Sherman. Text for pics or
2007 KIA OPTIMA, 4 door,
white, moon roof, fully equipped,
very nice inexpensive car, $2,275.
R&R Auto Sales, 406 E. Wise,
FREE: Adult Bible Study, every
Tuesday 9:30 a.m. County Line
Cowboy Church & Arena, Hwy
287, Sunset. FMI 940-845-2020 or
ACE SEPTIC: Install septic
systems and lateral lines. 940-841-
ALL AROUND HANDYMAN:
Power washing, painting, basic
construction, basic landscaping.
Call for estimates. 940-232-6676.
DRIVERS-OWNER OPS:
Home daily! Great pay! Sign-on
bonus! No touch freight! 1 year
CDL-A driving exp. required. 844-
SMALL ENGINE REPAIR:
Chainsaw Tune-up Special, start-
ing at $28.50 + parts. Chains
sharpened off of saw, while
POWER EQUIPMENT, S Hwy 59
at Bugscuffl e Lane, Bowie. 940-
LOOKING FOR place to cut oak
& pecan fi rewood. 940-284-1297.
The Shopper
Thursday, October 12, 2017
7
www.kntxradio.com
LOCAL NEWS,
WEATHER & SPORTS
6:20, 7:20,
12:20 & 5:20
Mon. - Fri.
9-10 AM Mon- Fri TRADE FAIR - Buy, Swap, Sell
Catch Friday Night Jackrabbit
Football All Season Long On...
Friday Night Pre Game 7:15 PM
Game 7:30 PM with Scott Weber
St. Jo 8:15 AM
Decatur 7:45 AM
Bridgeport 8:20 AM
Nocona 7:45 AM
Forestburg 8:20 AM
Bowie 7:45 AM
TUESDAY:
WEDNESDAY:
THURSDAY:
FRIDAY:
CONTACT FOR APPOINTMENT
BOWIE
Call or Text
Tim 940-366-3890
Levi 940-366-4257
Professional Carpet Cleaning
& Water Extraction
carpet · tile · wood · vinyl installation
with Tracey Jennings
BEYOND CRIMINAL
PROSECUTION
Whether or not a criminal
act results in injuring a
will prosecute the person
believed that any violation
of the criminal laws harms
society as well. Criminal
conducted not only to punish
but also to deter others from
acting similarly. As for the
victim of a criminal act, he
or she may file a civil lawsuit
against the wrongdoer. In
doing so, the plaintiff seeks
compensation for his or her
injuries or vindication of his
or her rights. Any defendant
found guilty in a civil case
and found liable for harming
the plaintiff will instead be
ordered to pay compensation
or to desist from some action.
If you been the victim of
a crime and would like to
know your rights, call the
appointment. I will review
your situation, answer any
losses. My office is located
Bowie. Call (940) 872-6524
to schedule an appointment.
In addition to criminal law
I also handle cases dealing
with personal injury law,
estate planning and more.
HINT: It is more difficult
civil judgment against that
Unique Quality Costumes
(Mens · Womens · Boys · Girls)
ACCESSORIES TO CREATE YOUR OWN
TPCL 13787
Five years experience in Montague
& surrounding counties. Serving
all your pest control needs.
Licensed & insured.
Twelve years experience in Montague
& surrounding counties. Serving
all your pest control needs including
termites & pre-treats.
Licensed & Insured.
DIAMOND
LIQUID FEED
J
(940) 841-1299
(940) 928-2051
Gary Johnson
36% Protein
with 3% Fat
· All Kinds of Welding Jobs
W
HITECOTTON'S
G
REENHOUSE
2 miles east of Montague on Hwy 59 N
9:00 am - 5:00 pm Monday - Saturday
1:00 - 5:00 pm Sunday
Check Out All The New
FALL FASHIONS
New Shipment of Slim-Sation Pants
Hooded Capes · New Snoozies
New Jewelry · Sleep Sets
Hobie's Fashion Apparel
1301 E Hwy 82 · Nocona, TX 76255 · 940-825-3914
Used Appliances
Thursday-Saturday - 10:00 a.m. - 4:00 p.m.
1293 W. Hwy 82 · Nocona, Texas
Washers · Dryers · Stoves · Refrigerators
Military Clothes · Furniture
(940) 577-4068
AUTHORIZED SERVICE CENTER
Chainsaw Blades sharpened while
you wait $5 ea guaranteed to cut!
Like us on
S. Hwy. 59 at Bugscuffl e Ln. Bowie
Decatur Tire
Store, Inc.
1201 N. Hwy 81/287
Decatur, TX 76234
www.decaturtirestore.com
940-627-3657
24 Hr Roadside 817-222-1100