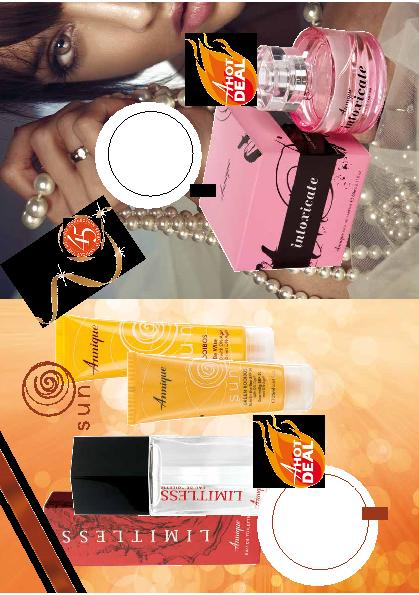 · Annique offers life-changing
opportunities. When you join,
· Change your career
· Earn an extra income
· Earn an unlimited income
· Work from home
· Spend more time with your
· Receive excellent training
· Use unique products that
Contact your local Annique Consultant or phone the
Annique Home Office on 012 345 9800 or email:
To order special offers from the Beautè, please
confirm with your Annique Consultant regarding
his or her order dates with Annique Home Office,
to ensure that you will receive the special offer,
as advertised. Every Annique Consultant has a
specific ordering cycle with Annique Home Office.
If you order your specials after month-end ordering
deadline of your Consultant, which may be as early
as the 27th of each month, you may not qualify for
the special offers in this Beauté.
The 2016 Annique Diary is filled with useful information
to assist you in your business, help you set targets for
the year ahead and plan your day-to-day priorities. This
wonderful keepsake will keep you organised and allow
Invite 5 or more friends to your own Annique
Pamper Party where you can experience and
enjoy many of Annique's exciting products in a
relaxed atmosphere. An experienced Annique
Consultant will demonstrate and recommend the
skincare products that are ideal for your skin type.
Elvina Felix considers being part of the
Annique team to be a real blessing and her
positive attitude to the business is infectious
to anyone she meets. She never misses an
opportunity to explore new ideas and says
that one of her favourite things about Annique
is that it keeps her on her toes. Her belief in
the products helps her achieve a steady flow
of sales and she loves nothing more than to
see her clients experience wonderful results.
Even though she is a newbie in the business,
she absolutely loves Annique. Her biggest
dream is to start selling Annique full time. Not
only did she earn a Motivator Award at the
2015 Jubilee, but she also propelled herself
into contention for 2016 Passport to Paradise
Tour with 11 new recruits!
Elvina loves spending time wih her fmaily.
HOSTESS GIFT & BUSINESS OPPORTUNITY